Roll of Honour, United Reformed Church, Northwich, Cheshire.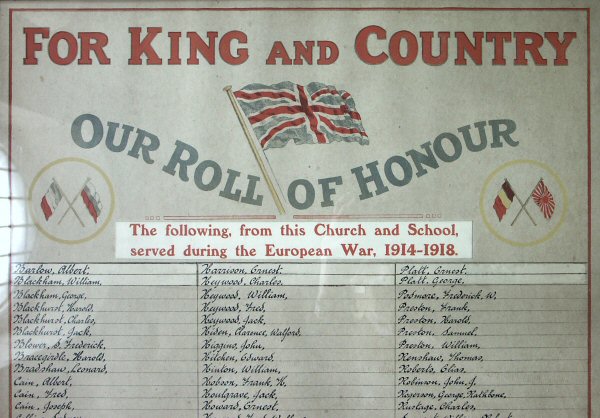 Location
Was in the United Reformed Church, Northwich, Cheshire; a Congregational Church at the time of the war. May now be in the Salt Museum, Northwich.
Description
A parchment listing those of the church and sunday school who served in the First World War. There is also a memorial to those of the church and school who fell in the war.
Inscription
FOR KING AND COUNTRY
OUR ROLL OF HONOUR
The following, from this Church and School,
served during the European War, 1914 - 1918.
BARLOW Albert
BLACKHAM William
BLACKHAM George
BLACKHURST Harold
BLACKHURST Charles
BLACKHURST Jack
BLOWER S Frederick
BRACEGIRDLE Harold
BRADSHAW Leonard
CAIN Albert
CAIN Fred
CAIN Joseph
COLLINS Sydney
COPE Alfred
DALZELL John
DALZELL J George
DAVIES Christopher
DAVIES John T Kennyon
DIXON Geoffrey
DIXON Herbert
DIXON Tom J
DONE William
FAIRHURST Harry
FAIRHURST Ralph
FALLOWS Harry
FEAR Harold
FLETCHER Mark J
FRAYNE Edward
FRYER Sydney
GANDY Tom
GAUNT Albert
GERRARD George
GITTENS James
GLEAVE Joseph
GLEAVE William
GREGORY Samuel
HALL Joseph
HALL Samuel
HARRISON Ernest
HEYWOOD Charles
HEYWOOD William
HEYWOOD Fred
HEYWOOD Jack
HIDEN Clarence Walford
HIGGINS John
HITCHEN Edward
HINTON William
HOBSON Frank K
HOULGRAVE Jack
HOWARD Ernest
HOWARD Fred Wallace
HUTCHISON David
JACKSON Sydney
JACKSON Harold
JOHNSON Percy
JOHNSON Thomas
JONES William
KNIGHT Fred
KNIGHT Edward
LAMB Arthur
LANGTON Aquila
LINDOP Edward
LITTLER Harry
LITTLER Willie
MADDOCK Charles
MAYER Enoch
MATTHEWMAN John
McNICOL John William
MORRIS Ernest
MORRIS Samuel
MUSKETT Joseph Bradburn
NEWTON Frank
NEWTON James
NEWTON John
PERRY Alfred Edward
PICKERING William
PLATT Ernest
PLATT George
PODMORE Frederick W
PRESTON Frank
PRESTON Harold
PRESTON Samuel
PRESTON William
RENSHAW Thomas
ROBERTS Elias
ROBINSON John J
ROGERSON George Rathbone
RUSTAGE Charles
SARGENT Willaim Robert
SHORE Edward
SOUTHERN Arthur
SWEENEY Frederick
SWEENEY Frederick (Junior)
THOMPSON Alfred
THOMPSON Ernest
THOMPSON Fred
THOMPSON Fred
TOMKINSON James
VENABLES Charles
VERNON Frederick
VERO William
VERO Richard
WATTS Harry
WHITEHEAD Albert
WHITEHEAD Oswald
WILKINSON Jack
WILLIAMS Huw
WILLIAMS Llewelyn
WILLIAMS Richard
WOOD Edwin
WOODIER James
YEARSLEY Frederick
YEARSLEY Albert

SUNDAY SCHOOL UNION, 57 & 59 LUDGATE HILL, LONDON E.C.
Thank you
To William Harris assistance in creating this web page.