War Memorial, United Reformed Church, Northwich, Cheshire.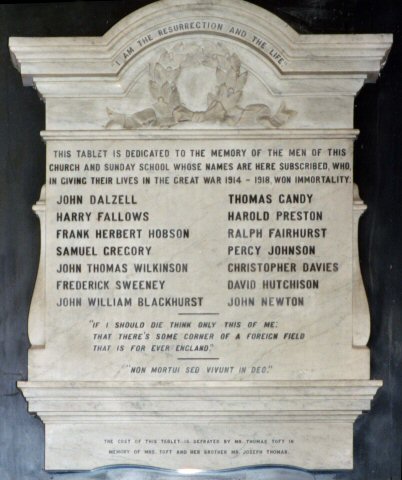 Location
In the United Reformed Church, Northwich, Cheshire; a Congregational Church at the time of the war.
Description
A white marble memorial. It names those of the church and sunday school who fell in the first world war. There is also a Roll of Honour naming those of the church and school who served in the war.
Inscription
"I AM THE RESURRECTION AND THE LIFE."
THIS TABLET IS DEDICATED TO THE MEMORY OF THE MEN OF THIS
CHURCH AND SUNDAY SCHOOL WHOSE NAMES ARE HERE SUBSCRIBED, WHO,
IN GIVING THEIR LIVES IN THE GREAT WAR 1914 - 1918, WON IMMORTALITY:
John DALZELL
Harry FALLOWS
Frank Herbert HOBSON
Samuel GREGORY
John Thomas WILKINSON
Frederick SWEENEY
John William BLACKHURST

Thomas CANDY
Harold PRESTON
Ralph FAIRHURST
Percy JOHNSON
Christopher DAVIES
David HUTCHISON
John NEWTON

---
"IF I SHOULD DIE THINK ONLY THIS OF ME:
THAT THERE'S SOME CORNER OF A FOREIGN FIELD
THAT IS FOREVER ENGLAND."
---
"NON MORTUI SED VIVUNT IN DEO."
THE COST OF THIS TABLET IS DEFRAYED BY MR THOMAS TOFT IN
MEMORY OF MRS. TOFT AND HER BROTHER MR. JOSEPH THOMAS.
Thank you
To William Harris for the photo and information about this memorial.