War Memorial, Royal Liverpool Golf Club, Hoylake.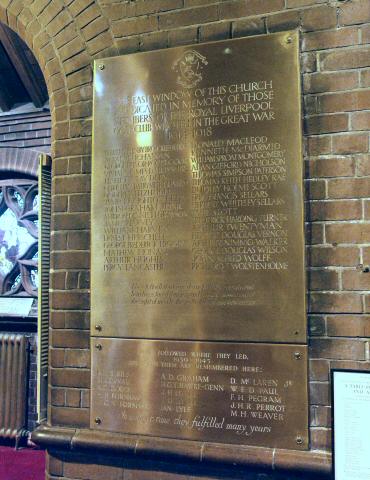 Location
In St Hildeburgh's Church, Hoylake, Cheshire.
Description
Two inscribed brass panels. They the name of Members of the Royal Liverpool Golf Club who fell in the two world wars.
Inscription
THE EAST WINDOW OF THIS CHURCH
IS DEDICATED IN MEMORY OF THOSE
MEMBERS OF THE ROYAL LIVERPOOL
GOLF CLUB WHO FELL IN THE GREAT WAR

1914 - 1918
Edward Henry BROCKLEHURST
Allan BUCHANAN
George Trevor-Roper COOK
Vivian James DARBYSHIRE
Leslie Finlay DUN
Christian Dalrymple DUNLOP
Godfrey FITZHUGH
James Houghton GETTY
John GRAHAM Junr
Ambrose Dennis H GRAYSON
James HARVEY
William HARVEY
Ernest HERSCHELL
George Frederick HIGGINS
Mathew HONAN
Arthur HUGHES
Percy LANCASTER

Donald MACLEOD
Kenneth McDIARMID
William Sproat MONTGOMERY
Alan Gifford NICHOLSON
Thomas Simpson PATERSON
Thomas Keith Hedley RAE
Dudley Holme SCOTT
Eric Francis SELLARS
Herbert Whiteley SELLARS
Basil STOTT
Frederick Harding TURNER
Arthur TWENTYMAN
Herbert Douglas VERNON
Arthur Nimmo WALKER
George Douglas WILSON
John Alfred WOLFF
Richard F WOLSTENHOLME

"They left all that was dear to them; endured
hardness, faced danger, and finally passed out of
the sight on men by the path of duty and selfsacrifice."
------
THESE FOLLOWED WHERE THEY LED
1939 - 1945
AND WITH THEM ARE REMEMBERED HERE:

R H BOULT
M COPNALL
A G DODD
H P FORSHAW
J C N FORSHAW

A D GRAHAM
H G T HAWKE-GENN
J H LITTLE
T D LITTLE
Ian LYLE

D McCLAREN Jr
W E D PAUL
F H PEGRAM
J H R PERROT
M H WEAVER

In a short time they fulfilled many years