War Memorial, St Michael's Church, Wincle, Cheshire.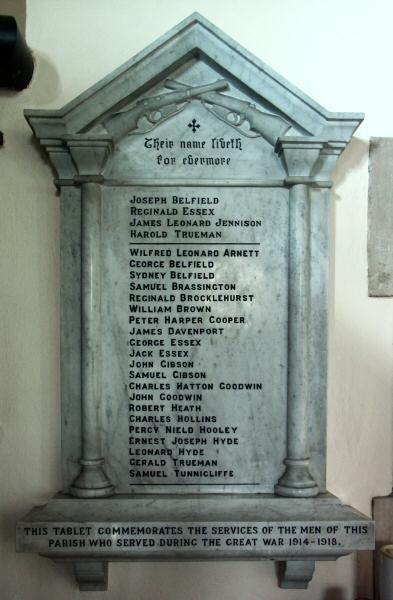 Location
In St Michael's Church, Wincle, Cheshire.
Description
A marble panel with embellishment. It shows the names of those of the parish who served in the first World War. The four who fell are shown first, followed below the horizontal line by those who returned.
Inscription:
+
Their name liveth
for evermore
Joseph BELFIELD
Reginald ESSEX
James Leonard JENNISON
Harold TRUEMAN


---

Wilfred Leonard ARNETT
George BELFIELD
Sydney BELFIELD
Samuel BRASSINGTON
Reginald BROCKLEHURST
William BROWN
Peter Harper COOPER
James DAVENPORT
George ESSEX
Jack ESSEX
John GIBSON
Samuel GIBSON
Charles Hatton GOODWIN
John GOODWIN
Robert HEATH
Charles HOLLINS
Percy Nield HOOLEY
Ernest Joseph HYDE
Leonard HYDE
Gerald TRUEMAN
Samuel TUNNICLIFFE

THIS TABLET COMMEMORATED THE SERVICES OF THE MEN OF THIS
PARISH WHO SERVED DURING THE GREAT WAR 1919 - 1918.