War Memorial, The Chapel, Dean Row, Cheshire.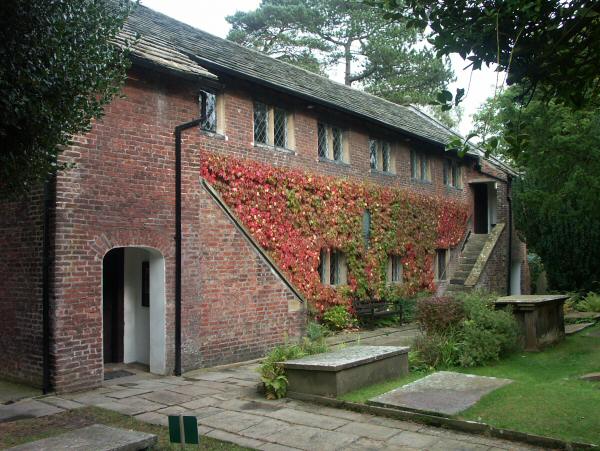 Location
On an external wall of Dean Row Unitarian Chapel, Dean Row, near Wilmslow, Cheshire.
Description
Two metal plaques are framed by virginia creeper on this carefully tended three-hundred year old church. The plaques name those of the church who fell in the two world wars.

In the church there is a wooden cross from a first world war military cemetery in France. It once marked the grave of Lieut-Colonel Claude Swanwick WORTHINGTON, a member of the church.
Inscription - War Memorials
TO THE
GLORY OF GOD
AND IN MEMORY OF
Robert John BRANDRETH
Frank BRANDRETH
Arthur Blake SCOTT
Harry WILLIAMSON
Claude Swanwick WORTHINGTON
WHO
COUNTING NOT THEIR LIVES DEAR
UNTO THEMSELVES DIED FOR
FREEDOM AND COUNTRY
IN THE GREAT WAR
1914 - 1919
------
ALSO
May BRANDON
John Douglas BARBER
WHO GAVE THEIR LIVES
IN THE WAR
1939 - 1945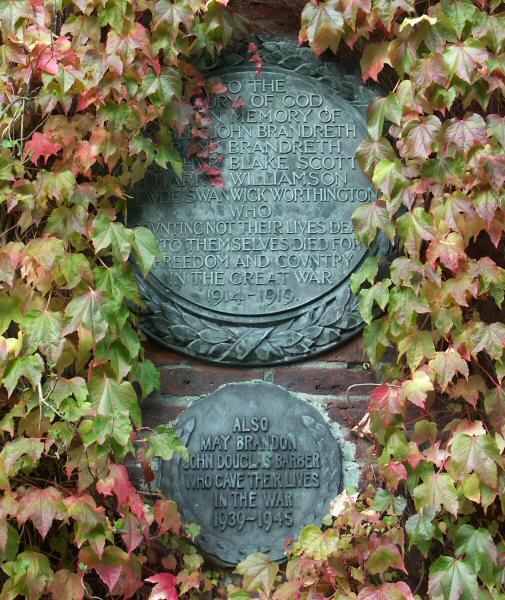 ------
Inscription - The Cross
THIS CROSS MARKED THE GRAVE OF
LIEUT-COLONEL

CLAUDE SWANWICK WORTHINGTON


D.S.O. * T.D. 6th MANCHESTER REGIMENT
WHO DIED ON OCTOBER 14th 1918 OF WOUNDS
RECEIVED IN ACTION NEAR EPINOY AND
WAS BURIED IN MOUNT HUON CEMETERY

LE TREPORT, FRANCE.