War Memorial, Whaley Bridge, Derbyshire.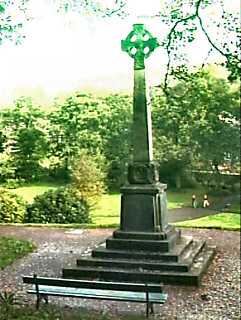 Location
Memorial Park, Wheatsheaf Road, Whaley Bridge, Derbyshire.
The town of Whaley Bridge grew astride the county border. The town centre was in Derbyshire, but the western half of the town was in Cheshire until the 1936 county boundary change transferred it to Derbyshire
Description
A stone cross. The inscription names those of Whaley Bridge and district who fell in the two world wars.
Inscription
TO THE GLORY OF GOD
AND TO THE IMMORTAL MEMORY
OF THE GALLANT MEN OF
WHALEY BRIDGE AND DISTRICT.
THESE GAVE THEIR LIVES
SERVING THEIR COUNTRY
IN THE GREAD WAR
A.D. 1914 - 1919.

At the going down of the sun and in the morning we will remember them.

Robert ARMITAGE
Leslie ASHBY
Ralph BAGSHAW
Leonard BAGSHAW
Hugh BAGSHAW
Vincent BALL
William BATES
Harry BENNETT
Albert BENNETT
Wilfred BRADBURY
William BRADDOCK
Alfred BRAMWELL
William BROADHURST
Fred BROCKLEHURST
Ernest BROWN
William H BYWATER
William CHEETHAM
Alfred E CORBETT
William COVERLEY
Sydney CRAMB
James DALE
Harry DEPLEDGE
Charles DEPLEDGE
Thomas DEPLEDGE
Hugh DUCKWORTH
Harry EDGE
George ETCHELLS
William EXLEY
James H FLETCHER
Archibald GALBRAITH
Albert GODDARD
Archibald GOODWIN
Arthur GOUGH
Joseph GOULD
James HALL
Elijah HALL
Sidney B HARE
Samuel HARROP
John HAWKYARD
Ernest HAWKYARD
Francis J HEWITT
Samuel HIBBERT
Arnold HILL
Ernest HILL
Tom C HILL
Elias HILL
John HILL
Bardo HODGE
Oswald HOLT
Fred HUTCHINSON
Richard H JODRELL
William JODRELL
William C JODRELL
William H JONES

Amorias JONES
Edward LEES
John LIDDELL
Alan LITTLE
Rolf LITTLE
Walter LOMAS
Louis LOMAS
Charles LOMAS
Jacob LOMAS
John LOMAS-FLETCHER
William C LOWE
Arthur LUPTON
Arthur MELLOR
Thomas MIDDLETON
Donald F MILNE
Richard MILNES
Frank MORRIS
Leonard MORTEN
John C MUNRO
Walter MURPHY
Cyril MURPHY
Philip MURPHY
Sam MYCOCK
Joseph NIXON
Samuel OLDFIELD
George W SMITH
Charles ORMEROD
George W PEARSON
Harold PLANT
James R POTTER
Harold POTTS
John SEACOMBE
Henry S P SHAW
Harold SHAW
Harry E SHAW
Ben SHIRT
Stanley SHIRT
Dan SHIRT
Ernest SMITH
Rowland H SPENCER
Robert SPITTAL
Joseph TOLSON
George TOWNSEND
Jos TRAVIS
James TRICKETT
George TURNER
Samuel WAIN
Richard WALKER
John W WATTS
Thomas WILD
Frank WILLIAMSON
Frederick W WOOLLEY
Fred WOOLLEY
Jack WYLD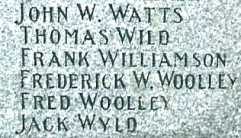 ------------
TO THE GLORY OF GOD
AND IN REMEMBRANCE OF THOSE
WHO FELL IN THE SECOND WORLD WAR
1939 - 1945

ADAMS Leslie
BENNETT Roland
BLAKE Ralph
BRADLEY Harold
BENNETT John
BOWDEN Frederick R
BOOTHEY Harold
BONTOFT Wilfred
BRAMWELL Cyril
CLAYTON Ralph
CHAPMAN Frank
COOKSON H
COTTRELL Leonard
DAVIES Alan
GROVE W A J
GODDARD Thomas
HARTLE Frederick
HOW Fred
HODGSON Kathleen

HARROP Frank S
HILL Alec
HALL Bernard
JONES Percy W
LOCKETT Eric D
LONGDEN Alan
LONGDEN James W
MELLOR George H
McGUFFIE Hugh M
MARSHALL Richard
NORBURY Cedric B
OLDHAM Louis V
QUINN A R
REEKIE George E
SIMPSON Frederick R
THOMASSON Ernest
TOMKINSON John S
WILSON A
WYLD Kenneth
WADE John O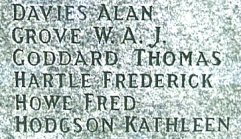 Carl's Cam