War Memorial, Wrenbury, Cheshire.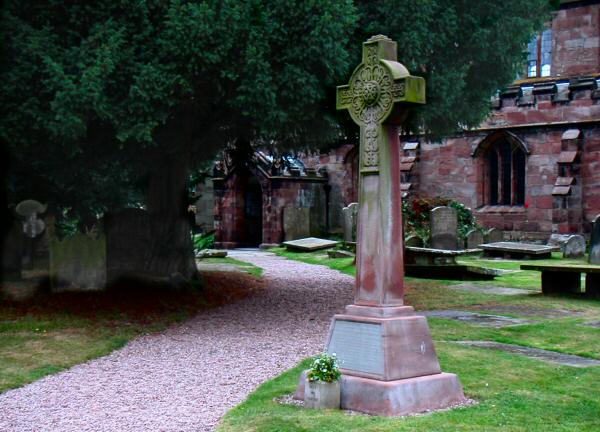 Location
In front of St Margaret's Church, Wrenbury, Cheshire.
Description
A stone cross. Plaques on the base record the names those who lost their lives in the two world wars.
Inscription
TO THE GLORY OF GOD AND IN MEMORY
OF THOSE FROM THE PARISH OF WRENBURY
WHO FELL IN THE GREAT WAR 1914 - 1918
---
James ASHLEY
John BROWN
Percy CAMERON
Fred CAULCOTT
Fred CHESTERS
Thos W COOPER
Albert DALE
Frank DALE
Fd HODGKINSON

Walter DALE
Alfred GARRATT
Ernest GREGORY
Harold GREGORY
Fred GRIFFITHS
Edward HAND
Arthur HOWELL
John W NICHOLS
Frank PASS

Albert T POWELL
John RODEN
Herbert SPENCER
Wilf STEVENSON
Walter D SUTTON
William TAPLE
John F WRIGHT
Wilfred WRIGHT

THE BURYING PLACE OF NOBLE MEN
IS IN THE HEARTS OF THEIR FRIENDS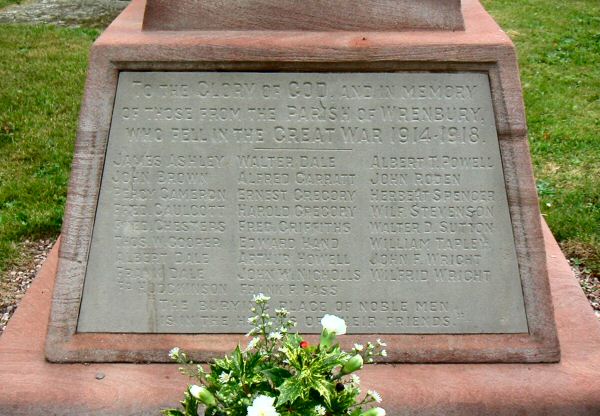 PRO PATRIA
1939 - 1945
Frederick William ELEY
Thomas William GRIFFITHS
George Edward HAND
Vincent JONES
Kenneth SHEWARD
John William THOMAS
Arthur WRIGHT
Frank PARKER

"O VALIANT HEARTS"