AT THE CALL OF KING AND COUNTRY THEY LEFT ALL
THAT WAS DEAR TO THEM, ENDURED HARDNESS, FACED DANGER,
AND FINALLY PASSED OUT OF SIGHT OF MEN BY THE
PATH OF DUTY AND SELF SACCRIFICE, GIVING UP THEIR
OWN LIVES THAT OTHERS MIGHT LIVE IN FREEDOM.
LET THOSE WHO COME AFTER SEE TO IT
THAT THEIR NAMES BE NOT FORGOTTEN.
1914 - 1919

George A ALLEN
Graham ANDERSON
William J ANDREWS
Arthur T APSIMON
John F ASHBY
Francis W ATHERTON
Harold ATKINSON
Walter ATKINSON
Thomas B BAKER
Arthur BANKS
William BANKS
Edith F BARKER
Arthur BARLOW
Samuel BARLOW
Septimus H BARLOW
Samuel F BARNES
Albert E BARTON
Arthur S BATE
John BECK
William G BECK
Wilson BELL
Richard C BENYON
George W BEVAN
John L BINNER
Ernest BIRD
Frederick BIRD
George T BIRD
Richard H BIRD
Thomas H BIRD
Eric BLACKBURN
William H BLOOR
Frank BOOTH
Walter BOUGHEY
Richard BRADLEY
Thomas R BRASSEY
Arthur C BRATTAN
John BRIGHOUSE
Thomas BUCKNALL
Vivian BURCHILL
Bertie BURNS
Fred CARR
Frederick CARR
Francis E CASE
Alfred A CASSON
Colin CHAPPELL
Alfred B CHASE
Charles F CHERRY
John E CHRISTIAN
Herbert CLARKE
Henry W H COLLETT
Sydney COLLINS
Clifford COOK
George T H COOK
George F COOKE
William A D COOKE

Charles B COOPER
Donald G R COOPER
Edgar COOPER
Frederick H COOPER
Charles COWDEROY
Harold R CRIGHTON
Edward N CROOKS
Edward S CROWDER
Hugh L CRUTTWELL
Frederick W CRUMPSTY
James DANGERFIELD
Edward W DAVIES
Harry DAVIES
James H DAVIES
John A P DAVIES
Joshua DAVIES
Robert S DAVIES
William H DAVIES
Thomas DAWSON
John G DENT
George T DEVANEY
James DEVANEY
John H DICKENSON
Frank DODD
William H DODD
Tom DODIMEAD
Reginald C DREAPER
Leslie F DUN
Thomas J DWIGHT
Donald EASTWOOD
Leslie EASTWOOD
John EDWARDS
Thomas EDWARDS
Leonard G EMERSON
Thomas EMMERSON
Edmund EVANS
James C EVANS
John EVANS
Charles E FAIRBANKS
Francis L FARNALL
Gordon D FERGUSON
Richard FLETCHER
James FOUNDS
Charles FOSTER
Frederick FOSTER
Thomas FOSTER
Evelyn F M FROST
Martin FURLONG
James H GETTY
Arthur GITTINS
John GODFREY
Dermot L GONNER
Ernest R GOODWIN
John GRAHAM
Maurice GREER
George P GREGG


----------------

Edward GRISDALE
Walter HALL
Joseph HALLOWS
Robert HALLOWS
Thomas H HAMMOND
Richard A HARDING
Raymond HARKNESS
George J HARRIS
David HARTNESS
Arthur HASKINS
Alfred HATTON
John HATTON
Oliver HATTON
William HATTON
Charles HAZELHURST
George HAZELHURST
George A HAZELHURST
William HAZELHURST
Reginald HEAL
Sydney HEAL
George V HENING
Arthur J HENSHAW
Albert HENSHAW
Ernest S HERRON
Alec R HERRON
Ernest HERSCHELL
Harry HEWITT
Geoffrey L HIGGINS
Harold L HIGGINS
Ernest HILL
John C HILTON
Williamson S HIND
Kenneth HINDE
George HINDLEY
George HOLDEN
Francis J HOLLOWELL
George HOLMES
Thomas HOLMES
William HOLMES
John HORE
William C HORE
Eric B HOUGH
Ernest HOUGHTON
Richard E HOUGHTON
George E HOULDSWORTH
Edwin HUGHES
James HUGHES
Ernest V INGHAM
John JACKSON
Sidney JACKSON
James R JOHNSTON
Benjamin JOHNSTONE
Ernest JOHNSTONE
James JOHNSTONE
Joseph JOHNSTONE
Walter JOHNSTONE

Albert E JONES
David JONES
Harold D JONES
John L JONES
John R JONES
Owen JONES
Robert C M JONES
Samuel JONES
Thomas F JONES
Ernest J KELLY
Herbert KELSALL
Douglas W KEMP
Alfred KENDRICK
William T KENDRICK
Charles E KERSHAW
Rupert F KETTLE
Lionel R T KING
Sydney W t KING
John K KNIVETON
Harold L KNOWLES
Alfred E LALLY
Arthur LALLEY
Frederick E LANCASHIRE
Paul LANCASTER
Percy LANCASTER
Reginald LANCASTER
Albert E LAWRENCE
Samuel H LEAVER
Horrocks W LEECH
Edwin LESTER
Frank LESTER, VC
John LEWIN
William O LEWIS
Charles P LINDNER
Francis R LINEKAR
George W LINEKAR
John H LITTLE
John J LLOYD
Laurence P LUCAS
Thomas LUNT
Thomas H LYON
Lewis A McAFEE
Charles McDAMMON
Bryden McKINNELL
William L MADDOCK
Noel W H MARPLES
Nicholas C MARSH
Frederick e MAYHEW
Cecil MEADOWS
Harry G MEARS
William C MITCHELL
Frank MONTEATH
James H MORRIS
John MORRIS
John P MORRIS
Maurice E MOSS


----------------

Alan G NICHOLSON
John S NICHOLSON
Joseph T NOBES
James R NORMAN
Arthur M O'NEIL
Matthew O'NEILL
George W OULDRED
Arthur L OWEN
Percy R OWEN
Clifford PARKINSON
John PARKINSON
Frederick PARR
Harold S PARR
William PARR
Ernest H PEERS
William A PINNOCK
Frederick P POORE
Harold M PORTER
John E PORTER
Perjy J POSTON
Arthur T POWNALL
Harry POWNALL
James POWNALL
John A POWNALL
John C POWNALL
Frank PRICE, (Ches. R.
William PRICE, (R.F.
William PRICE
Thomas E PRINGLE
William C PRINGLE
Thomas H PRITCHARD
Edwin PRYTHERCH
Joseph PUGH
John PUILLIAM
John W RADFORD
Edward RAILTON
Alfred C RIGBY
Walter J RIGBY
Walter RILEY
Charles T ROBERTS
James H ROBERTSON
William E ROGERS
Claude E ROOKE
Henry C ROOKE
Albert E ROSS
Robert ROSS
Harry C ROWLAND
John RUSSELL
Thomas RUTTER
Courteney SALISBURY
Joseph A SALISBURY
Harold SAXON
William d SAMUELSON
Arthur H SCHOLEFIELD
John SCOTT
Robert SCOTT

William SCOTT
Eric F SELLARS
Herbert W SELLARS
Henry SHAKESHAFT
John M SHAKESHAFT
William H SHAKESHAFT
Stanley SHAKESPEAR
James SHAW
Harold SHERLOCK
George E SHERRATT
Wilfred E SHONE
Reginald SIMISTER
William M SIMPELL
Charles L SMITH
Ernest SMITH
Robert SMITH
Samuel SMITH
William G SMITH
John A SNEDDON
Harry SPARROW
Herbert SPENCER
Arthur STALLARD
Walter STANLEY
Basil STOTT
Ernest TEANBY
George S THOMAS
Henry THOMPSON
John L TILLOTSON
Frederick TOTTY
Nicholas A R VAN GRUISEN
Harry WALKER
Leonard C WALL
Clement R C WALLWORTH
Reginald WARBRICK
William WARING
Richard WATERS
Richard B WAYLAND
Thomas WEBSTER
William WEBSTER
Thomas E WEST
Frank WHARTON
Samuel E WHARTON
Herbert J WHELAN
Frederick WILKINSON
Albert D WILLIAMS
Horace WILLIAMS
Hubert L WILLIAMS
Norman L WILLIAMS
Robert H WILLIAMS
Josiah A U WILLIAMSON
Millicent WILSON
William T WITT
George WOODS
William H WRIGHT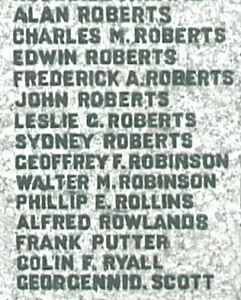 1939 - 1945

Kenneth ALDERSON
Margaret C ANDERSON
Eric G ANTHONY
Edgar ARMITAGE
William J ARMITAGE
Henry W ARNOTT
Andrew ASHCROFT
Hilbre M ASHTON
Denys L ATKINSON
Raymond A BANKS
Roy BARMER
Eric BARBER
Frank E J BARKER
Harold B BELL
Reginald V W BELLEW
Douglas C BENNETT
Jack BENSON
Rupert BENTLEY
George H BINTLEY
James BIRD
Robert BIRD
Alfred BLACKBURN
Cray BLACKBURN
George F H BOOTH
Reginald H BOULT
John F BALL

Colin R CAMPBELL
Harry CAMPION
Leonard H CHESTERS
Alfred C CLARK
Arthur E CLAYTON
Harold J CLEMENTS
Norman COLLINS-CAMPBELL
John CONNELLY
Arthur COOKE
Thomas COOGAN
Peter O COOK
Lincoln R COOPER
Robert COOPER
Michael COPNALL
Douglas F CORFE
Wilfred L CROSTHWAITE
Kenneth A DAVIDSON
Robert A DAVIES
Thomas J DAVIES
Norman C DAVIS
Peter DAWSON
Rosemary W DAWSON
William DENTON
Arthur C DODD
Jack DODD
Roy CROSS


----------------

James E DODD
Stanley DODD
Thomas F DONALDSON
Frederick W EDWARDS
John D EGLEN
Frank EVANS
George A EVANS
Philip W EVANS
Sidney J EVANS
William C EVANS
George EVANSON
Eric FAIRGRIEVE
George E FARDOE
Arthur R FARE
Reginald FENNEY
Stuart D FINNES
Henry P FORSHAW
John C N FORSHAW
Brian M FOSTER
John G FOSTER
Sydney E FROST
Pat D FURNISS
Joseph G GAFFNEY
Leonard N GALLAGHER
John L GAMBLE

Christopher J J GILL
James GILROY
John A GITTINS
Basil T R GLASSPOOL
Francis S GOLLAND
Richard C GOUGH
Allan D GRAHAM
Henry V GRAVES
Frank GRAY
John H GRAY
George I W GRIER
Norman J GRIFFITHS
John HADWIN
Geoffrey W HAIGH
William S S HARGADON
Ralph B HARRIS
John W HARROP
Eric HASKINS
Harold J HAYGARTH
Humphrey G T HAWKE-GENN
Jeffrey HAZLEHURST
Oscar C HEFFERNAN
William F HENDERSON
Colin HESKETH
Ronald S HILL
Arthur HUGHES


----------------

Howard P HOBSON
Leonard W HOCKING
Colin J HOLDEN
John E HOLDING
Benjamin HOLMES
Jemes W HOLMES, M.N.
James W HOLMES
homas S HOLMES
Harry H HOUSLEY
Stephen A HOUSLEY
Frank HUGHES
Elwy O H HUGHES
Norman D INGHAM
Kenneth G IREMONGER
William JACKSON
George W JAMES
Harry JAMES
Neville JENNINGS
George JONES
Richard G JONES
Thomas T JONES
Thomas K JONES
Wilfred JONES
John C KINGSLEY-SMITH
James KITCHER

Cyril T LALLY
Thomas H LAUGHTON
Ronald LAW
Cecil H LAWRENCE
Edward LAWRENCE
Desmond R LAWRENSON
Lawrence LEATHERBARROW
Denis N LEE
George G LEE
Richard A LEWIS
Ron LEWIS
Austin P LINDON
James H LITTLE
Thomas B LITTLE
Ernest MARRIOTT
Dennis W MASON
Jack MATTHEWS
Walter MAXWELL
Walter S MEADOWS
Richey R MENEELY
Reginald McCULLOUGH
Douglas S McGREEVY
Alistair McKELVIE
David McLAREN
Malcolm F McWHOR


----------------

Brendon M MILLER
Ronald MITCHELL
Kenneth W MONNS
Ralph MORRIS
Thomas V MORRIS
Raymond B MOSS
Alexander MOUNSE
Desmond M MURPHY
Ronald MURPHY
Michael S O'GRADY
William E OSTERFIELD
Jack PARKINSON
John E PARKS
Ffranccon PARRY
Walter H PARRY
Archie PEERS
Ernest A PEERS
Walter PEERS
Ernest F PEGG
Frank H PEGRAM
Harold S PHILLIPS
Frederick D PHEONIX
Norman W PINNINGTON
John P PLANT
Thomas G PORTER

John POVALL
William J PRESCOTT
John W PRICE
Samuel PRICE
John QUIRK
Kenneth RADFORD
Charles W RAINFORD
Joseph E R RAINFORD
Thomas H RAINFORD
Edward H M RELTON
Reginald F RIMMER
Alan ROBERTS
Charles M ROBERTS
Edwin ROBERTS
Frederick A ROBERTS
John ROBERTS
Leslie C ROBERTS
Sydney ROBERTS
Geoffrey F ROBINSON
Walter M ROBINSON
Phillip E ROLLINS
Alfred ROWLANDS
Frank PUTTER
Colin F RYALL
Georgennid SCOTT


----------------

Frank F C SCOTT
Allan H SEDDON
Arthur SHEARD
Charles SILCOCK
Philip D SMITH
Leonard C STANLEY
Mavis A STANLEY
Thomas E STANLEY
John R STOREY
Henry H SWAINE
Eric SWALE
John E TALBOT
Anthony J D TAYLOR
Philip S TAYLOR
Edward THOMAS
James THOMAS
James B THOMAS
John R THOMAS
Deryck THOMPSON
Henry C TRAVIS
Herbert V TRIGGS
Julian TRIGGS
James TUCKER
Frank M TURNER
Harry TURNER

William S UNDERWOOD
James A VERNON
Henry E VOSPER
John W WARING
George E H WASHINGTON
Cyril J WEBSTER
Francis WEIGHHILL
C . . . . . L WILLIAMS
Leonard C WILLIAMS
M . . . . . R WILLIAMS
Ralph N WILLIAMS
Richard R WILLIAMS
Roy WILLIAMS
Denis E v WILSON
David WINDER
Frederick J WOODS
Henry WOODS
Frederick A WRIGHT
Edwin WYATT
George WYLIE
Leslie C WYLIE
Kenneth Y YOUNG
Robert P YOUNGER
Evan WILLIAMS

WHO DIES IF ENGLAND LIVE, WHO STANDS IF FREEDOM FALL
IN GRATITUDE TO GOD AND
TO THE MEN AND WOMEN FROM
THESE PARTS WHO LAID DOWN
THEIR LIVES IN THE GREAT WAR
1914 - 1919 - 1939 - 1945
THEY WERE A WALL UNTO US
BOTH BY NIGHT AND DAY.