War Memorial, Lower Walton, Cheshire.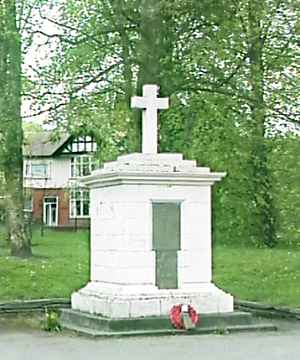 Location
Chester Road and Hill Cliffe Road, Lower Walton, Cheshire.
Description
A white painted rectangular monument surmounted by a cross. The names of those who lost their lives in the two world wars are recorded on beaten copper panels.
Inscription
PARISH OF LOWER WALTON
IN PROUD MEMORY
1914 - 1919
ALCOCK Thomas, South Lancs Reg
APPLETON Alfred, KOLI
APPLETON John, Cheshire Reg
BODELL James, Royal Berks Reg
BOSTOCK George, Dragoon Guards
BENNION Thomas, South Lancs Reg
DAVIS Frank B, Royal Ennisk Fus
DUNBOBBIN Jack, Lancashire Fus
GREEN Arthur, Cheshire Reg
JOHNSON Norman T, Royal W Kent Regt
MOULSDALE Arthur, York & Lanc'tr Regt
PARSON Piers, Essex Reg
PURKISS Charles F, South Lancs Reg
WALLINGTON Walter, Kings L'pool Reg
TAYLOR William H, South Lancs Reg
WILKINSON Alfred, Royal Navy


----------

PARISH OF WALTON
To the Glory of God
1939 - 1945
IN HONOUR OF THOSE
WHO GAVE THEIR LIVES



ALLENDER Barbara M
BARLAS William
COOMBS Andrew H
DAVIES Albert
DRURY Ernest
HUGHES Frank S
JACKSON Harry

MOSLEY Rupert
McADAM Ian O
STEPHEN Thomas H
TICKLE John
WHITEHOUSE Jack
WINSTANLEY Charles H
WILLIAMS Gordon D

WENT THE DAY WELL?
WE DIED AND NEVER KNEW
BUT WELL OR ILL
ENGLAND, WE DIED FOR YOU.

THEIR NAME LIVETH FOR EVERMORE
Carl's Cam