War Memorial, Upton (near Birkenhead), Cheshire.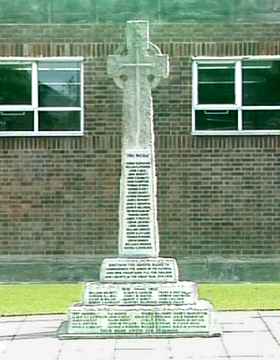 Location
In front of the Public Library, Ford Road and Ford Drive, Upton, near Birkenhead, Cheshire.
(In Merseyside since the 1974 county boundary change).
Description
A stone cross engraved with the names those of the area who lost their lives in the two world wars.
Inscription
"PRO PATRIA"
George W ATKINSON
William H ATKINSON
John M BELL
John BENNETT
John T BENNETT
John O BUFTON
Thomas BYROM
George CASEY
Henry DARCY
George DEVANEY
James DEVANEY
John F GOODWIN
John H HALLIGAN
Patrick HANLON
Thomas HAWE
James Y HEATLEY
Edwin JACKSON
John JORDAN
William LANGLEY
Henry A LEYLAND
Thomas McNAMEE
Edwin RIMMER
William E ROGERS
George E SHERLOCK

ERECTED BY THIS GRATEFUL VILLAGE TO
COMMEMORATE THE NAMES OF ITS FAITHFUL
SONS WHO FOUGHT AND FELL FOR ENGLAND
AND LIBERTY, IN THE GREAT WAR, 1914 - 1918.

1939 - 1945
William BEGNETT
Gordon R L BELL
Eileen M BULLEN
Robert F CONELLEY
Alban D DANSON
John F M DAVIES
Robert C DARCY
Geoffrey DELBRIDGE
Frank R DENTON
Kenneth EASTWOOD
John J ELLISON
Donald FULLER
Tony HOSKING
Albert E S LLEWELLYN
James LANGLEY
Ian D LOWTHER

Donald G MALLEY
F A MARRIS
John H MILN
Ralph PARRY
John M PHILLIPS
George H ROBBINS
Thomas SALISBURY
Charles D SHERLOCK
Cyril C SYKES
William H TROMP
William H TURNER
Frank G WADDINGTON
Leslie WARBURTON
Gerard M WATSON
W Vivian WOOD
Ben C M DICKINSON

THEIR NAME LIVETH FOR EVERMORE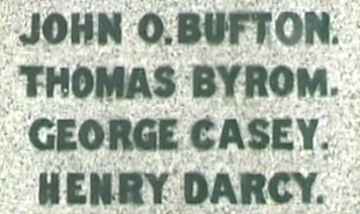 Carl's Cam