War Memorial, St Jude, Tilstone Fernall, Cheshire.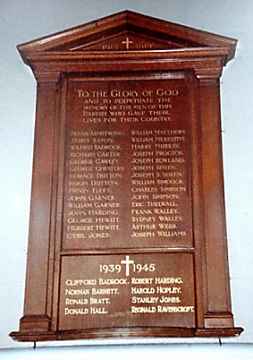 Location
On the east wall inside the Church of St.Jude, Tilstone Fearnall, Cheshire.
Description
An oak panel. It names those who lost their lives in the two world wars.
Inscription
1914 + 1918
TO THE GLORY OF GOD
AND TO PERPETUATE THE
MEMORY OF THE MEN OF THIS
PARISH WHO GAVE THEIR
LIVES FOR THEIR COUNTRY
Frank ARMSTRONG
James ASTON
Wilfred BADROCK
Richard CARTER
George CAWLEY
George CHESTERS
Horace DUTTON
Hugh DUTTON
Henry FLEET
John GARNER
William GARNER
John HARDING
George HEWITT
Herbert HEWITT
Cyril JONES

William MATTHEWS
William MEREDITH
Harry MURRAY
Joseph PROCTOR
Joseph ROWLAND
Joseph SHEEN
Joseph S SHEEN
William SIMCOCK
Charles SIMPSON
John SIMPSON
Eric THELWALL
Frank WALLEY
Sydney WALLEY
Arthur WEBB
Joseph WILLIAMS



------------

1939 + 1945



Clifford BADROCK
Norman BARNETT
Ronald BRATT
Donald HALL

Robert HARDING
Harold HOPLEY
Stanley JONES
Reginald RAVENSCROFT

Acknowledgement:
To Jeremy Jones for help in producing this page.