War Memorial, Thelwall, Cheshire.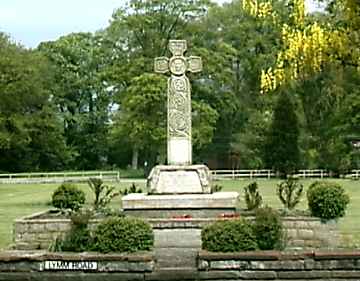 Location
Bell Lane and Lymm Road, Thelwall, Cheshire.
Description
A modern stone cross. Engraved on the body and base are:
- a quotation (in original language) from an ancient document,
- the names of those who lost their lives in the two world wars,
- a translation of the above quotation, it tells of events occuring during the reign of Edward the Elder (870 - 924).
Inscription
HER ON THYSUM GEARE
FOR EADWEARD CYNING
MID FIERDE ON UFAN
HAERFEST TO THELWAELE
& HET GEWYRCAN THA
BURG & GESETTAN &
GEMANNIAN & HET OTHRE
FIERD EAC OF MIERCNA
THEODE THA HWILE THE
HE THAER SAET GEFARAN
MAMECEASTER ON
NORTHHYMRUM & HIE
GEBETAN & GEMANNIAN

DCCCCXXIII
------------
IN REMEMBRANCE
Roland BROOKE
Walter Henry DENSHAM
James HANKINSON
Robert HANKINSON
Legh HOLDEN
Francis Edward Dale NICHOLSON
James RICHARDS
Samuel SHAW
William Henry TUNSTALL
Richard Barber WHITLOW
1914 - 1918

------------
1939 - 1945
Thomas Jefferson KENNEDY Reginald Aubrey RENDEL
Jack Kenneth SMALLSHAW Robert WARHAM
William WOODCOCK

------------
DCCCCXXIII

IN THIS YEAR WENT KING EDWARD WITH A FORCE
AFTER HARVEST TO THELWALL AND BADE BUILD THE
CITY AND OCCUPY AND MAN IT.
ANGLO SAXON CHRONICLE C.C.C. LIBRARY CAMBRIDGE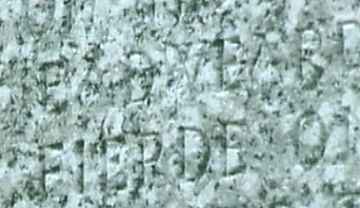 Carl's Cam