War Memorial, Tarporley, Cheshire.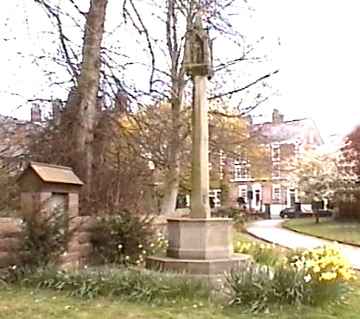 Location
In the grounds of St Helen's Church, Tarporley, Cheshire.
Description
A stone column and base. The names of those of Tarporley who lost their lives in the two world wars are engraved on a panel in a nearby wall.
Inscription
REMEMBER THE LOVE OF THEM THAT CAME NOT HOME FROM THE
WAR IN THE YEARS OF OUR LORD NINETEEN HUNDRED AND
FOURTEEN TO NINETEEN HUNDRED AND NINETEEN
In sacred sleep they lie
say not the brave can die.
IN MEMORIAM

Horatio ARMITAGE
Alfred BADGER
Harry BARLOW
Fred BELL
George, Lord BINNING
William BURT
Frank CARTMALE
Hugh CAWLEY
James COOK
John COOPER
Evan COOPER
William COOPER
Jack CRAVEN
William CRAVEN
Alfred FLEET
Frank GREENWAY
Fred GREGORY
Albert HARRISON
Horace HASSALL
George HEATH
Cyril HEMMINGS
Phillip JEFFS
Albert JOHNSON
Joseph JOHNSON
Edward LEES
Thomas LEE
George MACKAY
Roger MARTIN
William MATHEWS
Randall STOCKTON
Alfred CRAWFORD


William MEREDITH
Noah MORGAN
Henry T NEWNES
Edward PAWLEY
Samuel PAWLEY
Harry PINNINGTON
Bertie PLATT
Leonard R POVAH
Ellis ROGERS
Edward RUTTER
Hugh SHAW
Noah SHAW
William SHAW
Frank SHENTON
Fred STOCKTON
George STOCKTON
Alfred STOKES
Alec STONELY
Edward SOUTHERN
Eric THELWALL
Alfred VERNON
Bert H VERNON
John WARBURTON
William WHITE
John T WILCOX
Thomas WILDING
Joseph WILKINSON
Harry WILLIAMSON
Edward WOODCOCK
Douglas PARSONS



1939 - 1945



Donald COOPER
George COOPER
Tony CRAVEN
George HOLLAND
Gordon LANGLEY


John MEREDITH
Walter PAGE
William REGAN
Geoffrey REGAN
Thomas SWAFFIELD


John WALKER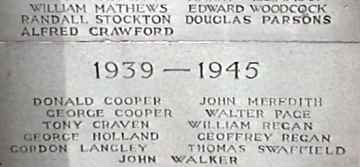 Carl's Cam