War Memorial, Stretton, Cheshire.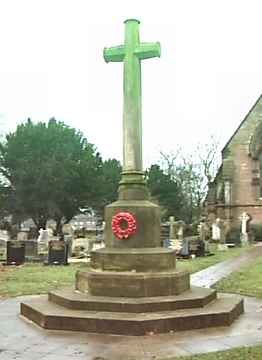 Location
St Matthew's Church, Stretton, Cheshire.
Description
There are two memorials. A stone cross in the churchyard carries plates engraved with the names of those who died as a result of both world wars. A wooden panel inside the church bears the names of those who gave their lives in the second world war.
Inscription
On the cross in the churchyard:
THIS CROSS WAS RAISED TO THE GLORY OF GOD
IN THE YEAR OF OUR LORD 1923
AS A MEMORIAL OF THE MEN
CONNECTED WITH THE CHURCH AND PARISH
WHO GAVE THEIR LIVES IN THE GREAT WAR
OR THROUGH THE HARDNESS THEN ENDURED
THIS MEMORIAL WAS RESTORED IN THE YEAR 2000
BY ST MATTHEW'S CHURCH AND STRETTON PARISH COUNCIL.
THE NAMES OF THOSE WHO DIED
IN OR AS A RESULT OF BOTH WORLD WARS WAS ADDED.
FIRST WORLD WAR 1914-18

John BOSTOCK
Harry CLARKE
Henry Perry DODD
Arthur Naylor ELLISON
Joseph HADDOCK
Francis Charles LYON
Herbert SIMSON
Joseph Edward SMITH
Frederick WEIR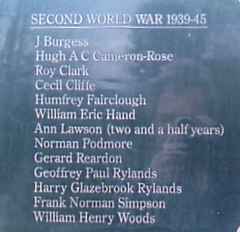 SECOND WORLD WAR 1939-45


J BURGESS
Hugh A C CAMERON-ROSE
Roy CLARK
Cecil CLIFFE
Humfrey FAIRCLOUGH
William Eric HAND
Ann LAWSON (two and a half years)
Norman PODMORE
Gerard REARDON
Geoffrey Paul RYLANDS
Harry Glazebrook RYLANDS
Frank Norman SIMPSON
William Henry WOODS


----------

On the panel inside the church:

IN REMEMBRANCE OF

J BURGESS
H CAMERON-ROSE
C CLIFFE
H FAIRCLOUGH
A LAWSON

N PODMORE
H RYLANDS
P RYLANDS
F SIMPSON
W WOODS

WHO SACRIFICED THEIR LIVES
FOR FREEDOM 1939 - 1945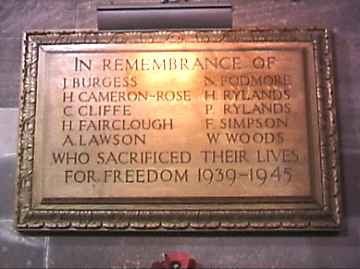 Carl's Cam