Works War Memorial, Silvertown, London E16.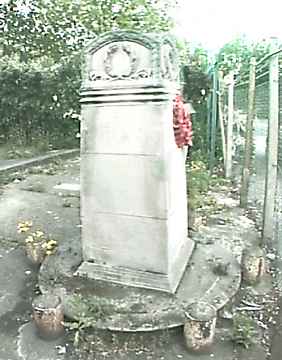 Location
On North Woolwich Road, (nearly opposite Mill Road), Silvertown, London E16, behind a wire fence, just inside the entrance to the former Brunner Mond Works. The monument may eventually be relocated to Barrier Park.
Description
A column in white stone, memorial to employees who died in the two world wars, including those who died in the TNT explosion at the works in January 1917.
Inscription
TO THE GLORIOUS
MEMORY OF THE
MEN FROM THESE
WORKS WHO FELL
IN THE GREAT WAR
1914-1919



ROYAL NAVY
Alfred FARMER, H.M.S." INDEFATIGABLE"
Walter Edward FARMER, H.M.S." INDEFATIGABLE"


ARMY
BEDFORDSHIRE REGT.
Walter McGRANE
Henry William HARRINGTON
Lionel Albert LANGDON


SOUTH STAFFORDSHIRE REGT.
Thomas FIELD


ROYAL BERKSHIRE REGT.
Duncan WALKER




AND TO THE MEMORY
OF THOSE WHO WHILST
SERVING THEIR COUNTRY
BY MAKING T.N.T.
PERISHED IN THE
EXPLOSION IN THESE
WORKS. JANUARY 19th 1917


Andrea ANGEL, (Edward Medal)
James BRUCE
Sidney Joseph BENSTEAD
John George CHANDLER
Charles DOWNING
Catherine Elizabeth HODGE
George Henry HOPKINS
William LAMBERT
Walter MANGER
Hugh McCOOMBS
James Henry REEVE
Henry ROGERS
Samuel SAUNDERS
Walter Ernest SHARPE
David TAYLOR
George Edgar Oliver WENBORN




ALSO TO THE MEMORY OF THOSE WHO FELL IN THE SECOND WORLD WAR 1939 - 1945


Victor Henry DARRANT, Essex R
Francis Harold DUNGEY, Beds & Herts R
Frederick Albert LAMB, Pioneer Corps
William Verdon LITTLE, Grenadier Guards
Frederick Maurice REEVE, Royal Navy
Miss Emily Mary RIDGWAY

Notes
In 1927 the Brunner Mond company became Imperial Chemical Industries (ICI). The works closed in 1961. The WW1 inscription (above) was taken from the Brunner Mond 50th Anniversary Book published in 1923.
Acknowledgement
To Elaine Hanson for help in producing this page.