War Memorial, Saughall, Cheshire.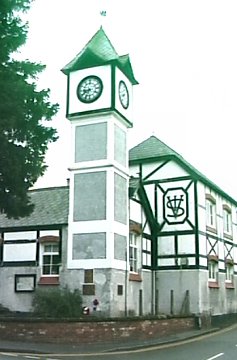 Location
Church Road and Hermitage Road, Saughall, Cheshire.
Description
Two cast metal plaques fixed to the base of the clock tower of the Vernon Institute. They record the names of those of the area who fell in the first and second world wars.
Inscription
THIS TABLET WAS PLACED
HERE BY THE PARISHIONERS OF
GREAT AND LITTLE SAUGHALL
TO THE MEMORY OF THE
FOLLOWING WHO MADE
THE SUPREME SACRIFICE
IN THE WORLD WAR
1939 - 1945.
Harold Walley CHARLESWORTH
Frederick Charles RASTALL
Bertram Lister ROBERTS
Tom GRIFFITH
Ben GRIFFITH
Evelyn GRIFFITHS
Richard HALLOWS
Charles Eric HYDE
George Eric HUXLEY
Eric Edward MACLEOD
Alan Cardigan JONES
Cyril John SOWDEN
Kenneth John STORRAR
Eric Francis QUINN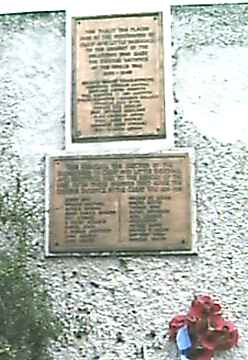 THIS MEMORIAL WAS ERECTED BY THE
PARISHIONERS OF GREAT AND LITTLE SAUGHALL
AND SHOTWICK PARK TO THE MEMORY OF THE
MEN FROM THESE PARISHES WHO MADE THE
SUPREME SACRIFICE IN THE GREAT WAR 1914 - 1918.

Robert BELL
William CARTMELL
Arthur EDWARDS
James Harold EDWARDS
Guy GOSSAGE
T Welsby HOLLAND
Samuel JONES
R Edward LIGHTFOOT
John MANSLEY
Rowe MERCER

William Hy MOORE
Samuel MOORE
Thomas PEERS
Alfred PRICHARD
John REDDING
John SMITH
George SMITH
William T WALLEY
Matthew WHIPP
Charles WRIGHT


Carl's Cam