War Memorial, Methodist Church, Sandbach.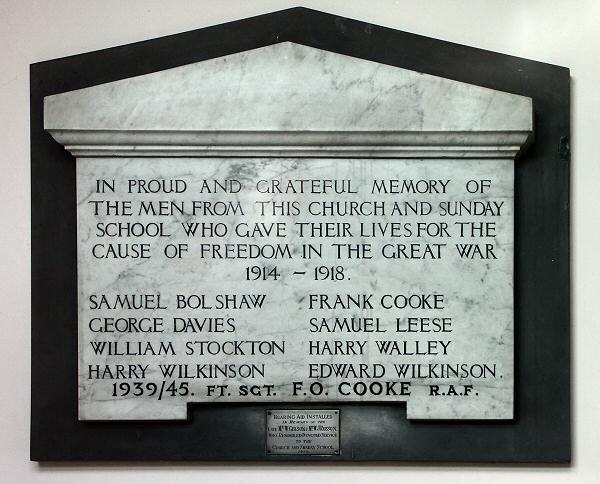 Location
In the entrance to the Methodist Church, Wesley Avenue, Sandbach, Cheshire.
Description
A marble panel, it names those of the church who fell in the two world wars.
Inscription
IN PROUD AND GRATEFUL MEMORY OF
THE MEN FROM THIS CHURCH AND SUNDAY
SCHOOL WHOH GAVE THEIR LIVES FOR THE
CAUSE OF FREEDOM IN THE GREAT WAR
1914 - 1918.
Samuel BOLSHAW
George DAVIES
William STOCKON
Harry WILKINSON

Frank COOKE
Samuel LEESE
Harry WALLEY
Edward WILKINSON

1939/45 Ft Sgt F O COOKE, RAF

Hearing Aid Installed
In Memory of the
late Mr W GIBSON & Mr W J ROSSON
Who Rendered Devoted Service
to the
Church and Sunday School
1956