War Memorial, URC, Over, Cheshire.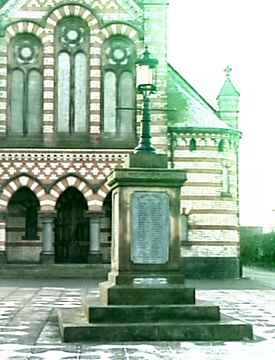 Location
In front of the United Reformed Church, Over, Cheshire.
Description
A stone monumental lamp incorporating marble panels naming the men of the church who fell in the two world wars, and those who returned from the first world war.
Inscription
They gave their lives.
In loving memory of
BARLOW Wilson
DONE Charles
FINNEY Leonard
FOWLES Peter
GIBSON Samuel
GOULDING William H
HAMLETT Thomas
HITCHEN Samuel
HODGKINSON Samuel
HOPLEY Ernest
KENNERLEY William
LEIGH James
LIGHTFOOT Joseph
NIELD William
OAKES Reginald
SHAW Frederick
SHAW Samuel
SUDLOW James P
TAYLOR John
WALKER Rueben
Missing
HOUGH Albert
KITCHEN Albert W
TOMLINSON Frederick
Died in Camp
JONES John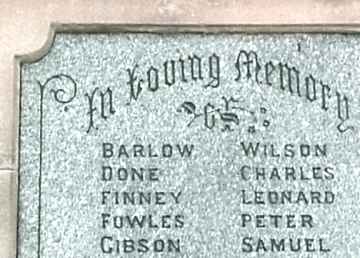 For God and Freedom
In Grateful Recognition of the service of

ABBOTTS John
ABBOTS Joseph
ASTBURY Walter
ATHERTON Wm H
BARLOW Albert
BEBBINGTON Syd'y
BEBBINGTON Geo
BEBBINGTON Fred
BEBBINGTON Wilf
BIRTWISTLE Sydy
BIRTWISTLE Waltr
BILLINGTON Art'r
BILLINGTON Geo
BILLINGTON Osw'd
BLACKBURN Elisha
BLACKBURN Will
BLACKBURN Tho

BLACKBURN Jabz
BLACKBURN Alfd
BOOTH Albert
BOOTH John
BREEZE Thomas
BULLOCK John
BULLOCK Ben'n
BULLOCK Edwin
CLARKE Harold
CLARKE George
COURT John C
DAVIES Frank L
DANIELS Thomas
DENSON Fred
DICKENSON Wm
DICKENSON Syd'y
DICKENSON Ja





-------

They Gave Their Service

DONE John
DONE William
DONE James
EATON Harold
FINNEY James
FINNEY James
FINNEY Norman
FINNEY Harold
FINNEY William
FINNEY Edmund S
FINNEY Christ'r
GIBSON Daniel
GIBSON John
GREGORY Samuel
GREGORY Daniel
HAMLETT Sydney
HAMLETT Nat'l C
HAMLETT William
HAMLETT Edgar
HITCHEN Harry
HETHERINGTON C C

HITCHEN Albert
HODGKINSON John
HOLT Alfred
HOLT Arthur
HOUGH Thomas
HULSE William
HULSE Harry
HULSE John
HULSE James D
HUNT James
HUNT Harry
HUNT John W
HUNT Alfred
JONES John R
JONES Thomas
KENNERLEY Alfred
KENNERLEY MM, H
KITCHEN John
LEDWARD Fred'k
LIGHTFOOT John M
LOWE Thomas





-------

They risked Their Lives


LIGHTFOOT Fred'k
MADDOCK John W
MASSEY Charles
MELLOR Row'ld
MILLS Joseph
MOSS jOHN h
MOUNTFIELD Chas
NODEN Walter
OAKES Geo Henry
OAKES Sydney
PARRY Robert F
PARTINGTON Fred'k
ROBERTS John R
ROBERTS Griest C
SHAW John
SHAW Walter
SHENTON Walter
SHENTON George
SMART John
STELFOX Herb't
HAMLETT George

STONELEY Tho's
STUBBS John
SUDLOW Harry
TOLFREE Norman
TOMLINSON Tho's
TOMLINSON Jos'ph
THOMPSON Arthur
TURNER Cyril P
WALLACE William
WALTON William
WEEDALL John W
WINTERBOTTOM W H
WORRALL Rob't
WORRALL Will'm
YEARSLEY Henry
YEARSLEY Edmund
YEARSLEY Samuel
YEARSLEY Joseph
YEARSLEY John
YEARSLEY Will'm
HAMLETT Fred'k

-------
1939 - 1945

Norman ELCOCK
Horace SHENTON
Kenneth YEARSLEY

GREATER LOVE HATH NO MAN THAN THIS
THAT A MAN LAY DOWN HIS LIFE FOR HIS PRIENDS
THE GREAT EUROPEAN WAR 1914 - 1919
FOR HE SHALL GIVE HIS ANGELS
CHARGE OVER THEE TO KEEP
THEE IN ALL THY WAYS
O GIVE THANKS TO THE LORD FOR HE IS GOOD,
FOR HIS MERCY ENDURES FOR EVER.
GOD IS OUR REFUGE AND STRENGTH
A VERY PRESENT HELP IN TROUBLE
Carl's Cam