War Memorial, Odd Rode, Cheshire.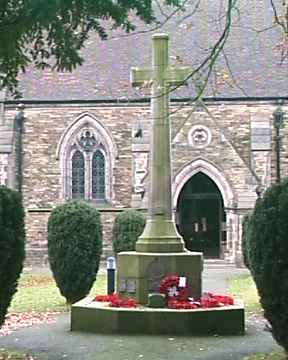 Location
In the grounds of All Saint's Church, Odd Rode, Cheshire.
Description
A sandstone cross with several small cast metal plates recording the name and year of the death of the men and woman of Odd Rode Parish who fell in the first and second world wars.
Inscription
In thankful remembrance of the men of this parish
who sacrificed their lives in the great war 1914 - 1918.
Plate 1

1915
Frederick W PRICE
1916
Peter FILCOCK
Leonard DAVIES
James Arthur MOLD
Charles NEW
Percy DAVIES
Arthur RHODES
Harold BOSSONS
James MELLOR



Plate 2

1917
William BLOOR
Ernest BAILEY
Donald BOOTH
Hylton H BAILEY
Thomas HOLLAND
Harold CLARKE
Sidney TAYLOR
Sidney BOWLER
Edward CLARKE



Plate 3

1915
William H GRANT
Daniel MITCHELL
Ellis BARLOW
1916
James PIERPOINT
1917
James BARLOW
1918
John James HARRIS



Plate 4

1918
Victor SANT
Frederick H SHULVER
Harry Joseph BIRTLES
William CARTWRIGHT
Noah STANNIER
George ARMITT
Percy BRANDRETH



Plate 5

1918
Alexander BIRTLES
Harry BIRTLES
Harry R BULLOCK
Jack MITFORD
Arnold WHITTAKER
Herbert TAYLOR



Plate 6

1919
Joseph BOOTH
1921
W James LAWTON
1922
Frank B RILEY




------------

1939 - 1945
At the going down of the sun
and in the morning
we will remember them.

Plate 7

1940
Wilfred Ernest CARTWRIGHT
Benjamin COLON
1941
Alfred WOODWARD
1942
James Bernard DUNNE
Alroy JONES



Plate 7

1942
Alfred WILCOX
1943
Fred MADDOCK
Freda STATHAM
1944
Frank ARMITT
George BOSSON



Plate 9

1944
Lewys William EVANS
James Victor GIBSON
William Samuel HANCOCK
William HULSE
Edwin Buckley JONES
Cyril Dennis LONGSHAW
John NEW



Plate 10

1945
Raymond ECCLESTONE
William Jesse John WISE
Thomas Arnold LAWTON
Joseph Henry LOWE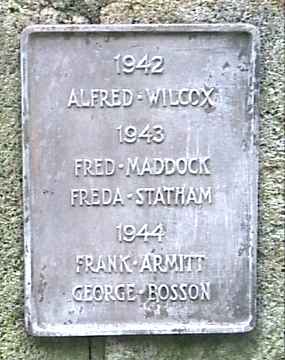 Carl's Cam