War Memorial, Nether Alderley, Cheshire.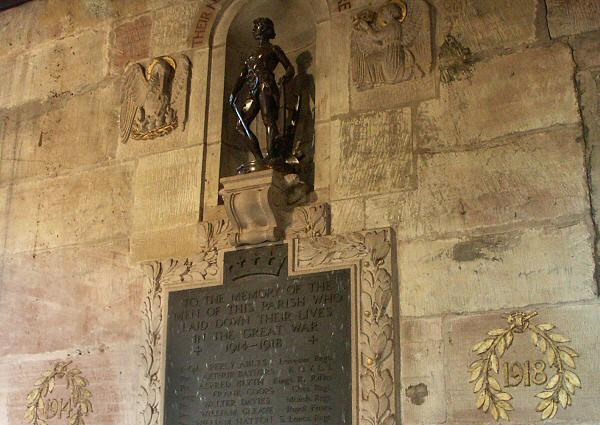 Location
St Mary's Church, Nether Alderley, Cheshire.
Description
Inside the church a memorial names those of the parish who fell in WW1. Nearby, in the parish hall, there are three Rolls of Honour. They name: those of Nether Alderley who served in WW1, those of Great Warford who served in WW1 (see separate web page), and those of the parish who served in WW2.
The WW1 Memorial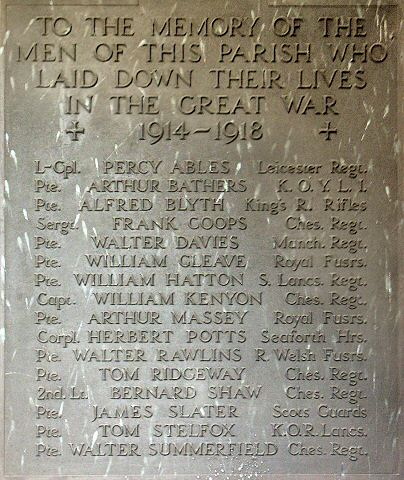 TO THE MEMORY OF THE
MEN OF THIS PARISH WHO
LAID DOWN THEIR LIVES
IN THE GREAT WAR
+ 1914 - 1918 +
L-Cpl Percy ABLES Leicester Regt
Pte Arthur BATHERS KOYLI
Pte Alfred BLYTH Kings R Rifles
Sergt Frank COOPS Ches Regt
Pte Walter DAVIES Manch Regt
Pte William GLEAVE Royal Fusrs
Pte William HATTON S Lancs Regt
Capt William KENYON Ches Regt
Pte Arthur MASSEY Royal Fusrs
Corpl Herbert POTTS Seaforth Hrs
Pte Walter RAWLINS R Welsh Fusrs
Pte Tom RIDGWAY Ches Regt
2nd Lt Bernard SHAW Ches Regt
Pte James SLATER Scots Guards
Pte Tom STELFOX KORLancs
Pte Walter SUMMERFIELD Ches Regt

The WW1 Roll of Honour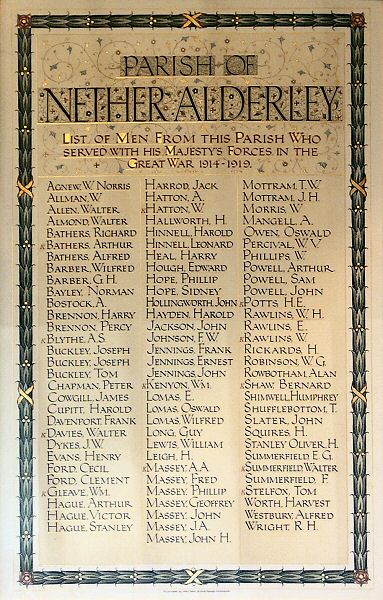 PARISH OF
NETHER ALDERLEY
LIST OF MEN FROM THIS PARISH WHO
SERVED WITH HIS MAJESTY'S FORCES IN THE
GREAT WAR 1914 - 1919.
| | |
| --- | --- |
| | AGNEW W Norris |
| | ALLMAN W |
| | ALLEN Walter |
| | ALMOND Walter |
| | BATHERS Richard |
| k | BATHERS Arthur |
| | BATHERS Alfred |
| | BARBER Wilfred |
| | BARBER G H |
| | BAYLEY Norman |
| | BOSTOCK A |
| | BRENNON Harry |
| | BRENNON Percy |
| k | BLYTHE A S |
| | BUCKLEY Joseph |
| | BUCKLEY Joseph |
| | BUCKLEY Tom |
| | CHAPMAN Peter |
| | COWGILL James |
| | CUPITT Harold |
| | DAVENPORT Frank |
| k | DAVIES Walter |
| | DYKES J W |
| | EVANS Henry |
| | FORD Cecil |
| | FORD Clement |
| k | GLEAVE Wm |
| | HAGUE Arthur |
| | HAGUE Victor |
| | HAGUE Stanley |

| | |
| --- | --- |
| | HARROD Jack |
| | HATTON A |
| k | HATTON W |
| | HALLWORTH H |
| | HINNELL Harold |
| | HINNELL Leonard |
| | HEAL Harry |
| | HOUGH Edward |
| | HOPE Phillip |
| | HOPE Sidney |
| | HOLLINGWORTH John |
| | HAYDEN Harold |
| | JACKSON John |
| | JOHNSON F W |
| | JENNINGS Frank |
| | JENNINGS Ernest |
| | JENNINGS John |
| k | KENYON Wm |
| | LOMAS E |
| | LOMAS Oswald |
| | LOMAS Wilfred |
| | LONG Guy |
| | LEWIS William |
| | LEIGH H |
| k | MASSEY A A |
| | MASSEY Fred |
| | MASSEY Phillip |
| | MASSEY Geoffrey |
| | MASSEY John |
| | MASSEY J A |
| | MASSEY John H |

| | |
| --- | --- |
| | MOTTRAM T W |
| | MOTTRAM J H |
| | MORRIS W |
| | MANGELL A |
| | OWEN Oswald |
| | PERCIVAL W V |
| | PHILLIPS W |
| | POWELL Arthur |
| | POWELL Sam |
| | POWELL John |
| k | POTTS H E |
| | RAWLINS W H |
| | RAWLINS E |
| k | RAWLINS W |
| | RICKARDS H |
| | ROBINSON W G |
| | ROWBOTHAM Alan |
| k | SHAW Bernard |
| | SHIMWELL Humphrey |
| | SHUFFLEBOTTOM T |
| | SLATER John |
| | SQUIRES H |
| | STANLEY Oliver H |
| | SUMMERFIELD E G |
| k | SUMMERFIELD Walter |
| | SUMMERFIELD F |
| k | STELFOX Tom |
| | WORTH Harvest |
| | WESTBURY Alfred |
| | WRIGHT R H |
The WW2 Memorial & Roll of Honour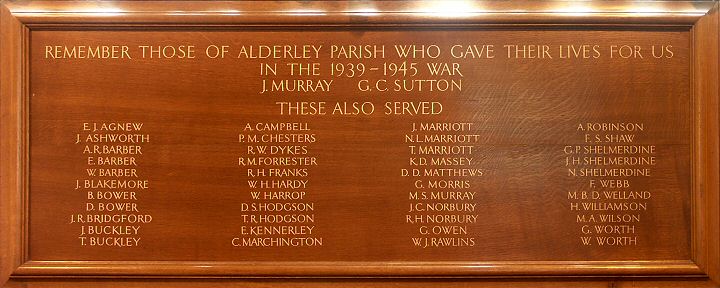 REMEMBER THOSE OF ALDERLEY PARISH WHO GAVE THEIR LIVES FOR US
IN THE 1939 - 1945 WAR
J MURRAY G C SUTTON

THESE ALSO SERVED
E J AGNEW
J ASHWORTH
A R BARBER
E BARBER
W BARBER
J BLAKEMORE
B BOWER
D BOWER
J R BRIDGEFORD
J BUCKLEY
T BUCKLEY


A CAMPBELL
P M CHESTERS
R W DYKES
R M FORRESTER
R H FRANKS
W H HARDY
W HARROP
D S HODGSON
T R HODGSON
E KENNERLEY
C MARCHINGTON


J MARRIOTT
N L MARRIOTT
T MARRIOTT
K D MASSEY
D D MATTHEWS
G MORRIS
M S MURRAY
J C NORBURY
R H NORBURY
G OWEN
W J RAWLINS


A ROBINSON
F S SHAW
G P SHELMERDINE
J H SHELMERDINE
N SHELMERDINE
F WEBB
M B D WELLAND
H WILLIAMSON
M A WILSON
G WORTH
W WORTH