War Memorial, Mostyn House School, Parkgate, Cheshire.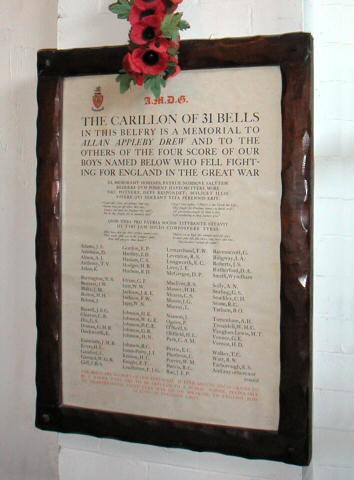 Location
Mostyn House School, Parkgate, Cheshire
Description
A carillon on the roof over the entrance to the school chapel. It is a memorial to the old boys of the school who fell in the first world war. Their names are shown on a panel in the entrance to the chapel.

The school stands on the Dee estuary. The carillon is played regularly. The sound of its bells can be heard across the school and out over "the sands of Dee".
Inscription
A. M. D. G.
T H E C A R I L L O N O F 3 1 B E L L S
I N T H I S B E L F R Y I S A M E M O R I A L T O
A L L A N A P P L E B Y D R E W A N D T O T H E
O T H E R S O F T H E F O U R S C O R E O F O U R
B O Y S N A M E D B E L O W W H O F E L L F I G H T -
I N G F O R E N G L A N D I N T H E G R E A T W A R

HI, MEMORANT HOMINES, PATRIÆ NOBISQVE SALVTEM
REDDERE DVM POSSENT HAVD METVERE MORI.
NEC POTVERE, DEVS RESPONDET; SCILICET ILLIS
VIVERE QVI DOCEANT VITA PERENNIS ERIT.

"Cruel their Fate, and piteous," men say ;
"Heroic boys, cut off before their day ;
Danger and pain for England they defied ;
Yet as they fought, for us untimely died."

"Nay," God replies: "Their's is not Death but Life ;
They fought for Freedom; strove - to finish strife;
All generations, taught by them to live,
Life everlasting to their teachers give."

QVOS TVBA PRO PATRIA SOCIOS TITVBANTE CITAVIT
HI TIBI JAM SOCIO COMPOSVERE TVBAS.

Mere boys, they saw their stricken country reel ;
Their ready ranks rose at the trumpet's peal ;
How will you give them thanks?


They've set on high this trumpet peal for you ;
So must your life, like theirs, ring sweet and true ;
You, too, have "joined the ranks."

ADAMS J S
ADAMSON D
ALISON A J
ANTHONY T V
ATKIN K

BARRINGTON N S
BENNETT J W
BLAKE J M
BOLTON H H
BOLTON J

BURRELL J S G
CLEAVER C R
DIX G S
DOMAN G H R
DUCKWORTH E

ENTWISTLE J M B
EVERS H L
GAISFORD L
GARRARD W G B
GELL J B S

GORDON E P
HARTLEY J H
HASLAM C S
HODGES H B
HUDSON R D

IRVINE G F
ISITT W W
JACKSON J K E
JACKSON F W
JAPP W N

JOHNSON H E
JOHNSON W G E
JOHNSON P C E
JOHNSON G R
JOHNSON H N

JOHNSON B C
JONES-PARRY J I
KENION H C
KNIGHT F T
LEADBITTER F J G

LEMARCHAND F W
LEVENTON R S
LONGWORTH E C
LOVE J E
McGREGOR D P

MacIVER R S
MASSEY H H
MEARES C S
MOORE J G
MURRAY L

NANSON J
OGDEN P
O'NEILL S
OLDFIELD H L
PARK C A M

PERRIN E C
PHETHEAN C
PORRITT W M
PURVIS R C
RAE J E P

RAVENCROFT G
RIDGEWAY I A
ROBERTS J S
RUTHERFORD D A
SMITH Wyndham

SOLLY A N
STIRLING G S
STOCKLEY C H
STONE R C
TATHAM B O

TOTTENHAM A H
TROUSDELL W H C
VAUGHAN-LEWIS M T
VENNER G E
VERNON H D

WALKER T C
WATT R S
YARBOROUGH E S
And any others not
traced

THE BELLS ARE NO PART OF OUR FREEHOLD. IF EVER MOSTYN HOUSE CEASES TO
BE A SCHOOL THEY ARE TO BE OFFERED TO A PUBLIC SCHOOL, PREFERABLY
TO CHARTERHOUSE, THAT THEY MAY GO ON SPEAKING TO ENGLISH BOYS
AS LONG AS ENGLAND LASTS.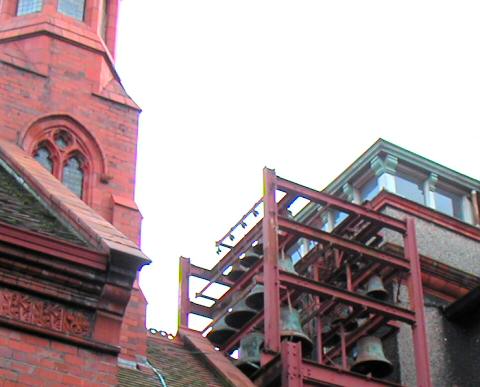 Thank you
To the headmistress for her friendly welcome.