War Memorial, Mere, Cheshire.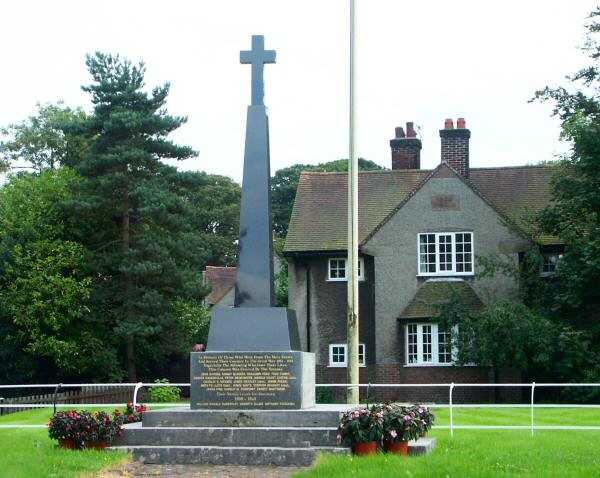 Location
Mere crossroads (A50 & A556), Mere, Cheshire.
Description
A tapered black stone column standing on a broad base and surmounted by a cross. The base records the names of those from the Mere Estate who fell in the two world wars.
Inscription
In Memory Of Those Who Went From The Mere Estate
And Served Their Country In The Great War 1914 - 1918
Especially The Following Who Gave Their Lives.
This Column Was Erected By The Tenants
John BARNES, Sidney BURGESS, Benjamin FORD, Fred TIMMIS,
George BASKERVILLE, Peter DRINKWATER, Harold Grant DALTON Lieut.,
Charles E VICKERS, James BRADLEY Lieut., James FAGAN,
Mervyn LLOYD Capt., James WHITE, Stephen BRADLEY Lieut.,
James FINN, Harold W PIERPOINT, Ernest WHITTAKER,
Their Names Liveth For Evermore
1939 - 1945
William Donald DUNKERLEY, Kenneth OLLIER, Anthony PICKERING,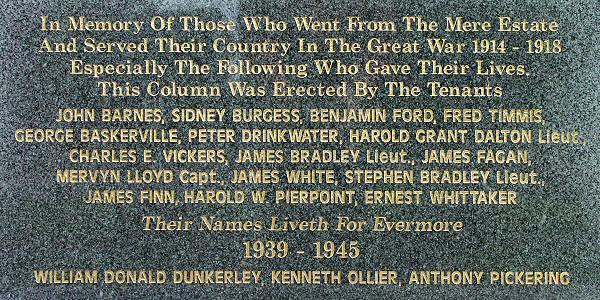 Note
In 2006 Mere war memorial changed shape. The base remains the same, but 85 year old slender elegant marble column was replaced. Did it fall victim to safety fanatics?

The two Photos below show the old and new columns. They also illustrate changes in web page photography over five years. The original was photographed in 2001 when digital photography was in its infancy, and web page photos had to be kept small because of slow internet connections. Perhaps future web surfers will find the 2006 photo also looks dated.