Roll of Honour, St Michael, Little Leigh .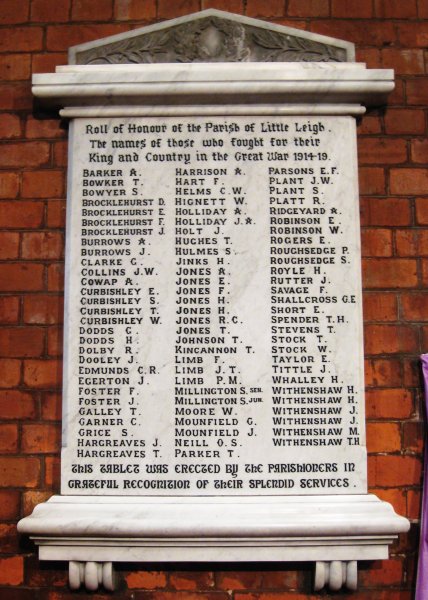 Location
In the Church of St Michael and All Angels, Little Leigh, Cheshire.
Description
A stone tablet engraved with the names of those of the parish who served in WW1.

There is also a WW1 War Memorial in the church.
Inscription
Roll of Honour of the Parish of Little Leigh.
The names of those who fought for their
King and Country in the Great War 1914-19.

BARKER A
BOWKER T
BOWYER S
BROCKLEHURST D
BROCKLEHURST E
BROCKLEHURST F
BROCKLEHURST J
BURROWS A
BURROWS J
CLARKE G
COLLINS J W
COWAP A
CURBISHLEY E
CURBISHLEY S
CURBISHLEY T
CURBISHLEY W
DODDS G
DODDS H
DOLBY R
DOOLEY J
EDMUNDS C R
EGERTON J
FOSTER F
FOSTER J
GALLEY T
GARNER C
GRICE S
HARGREAVES J
HARGREAVES T

HARRISON A
HART F
HELMS C W
HIGNETT W
HOLLIDAY A
HOLLIDAY J A
HOLT J
HUGHES T
HULMES S
JINKS H
JONES A
JONES E
JONES F
JONES H
JONES H
JONES R C
JONES T
JOHNSON T
INCANNON T
LIMB F
LIMB J T
LIMB P M
MILLINGTON S, SEN.
MILLINGTON S, JUN.
MOORE W
MOUNTFIELD G
MOUNTFIELD J
NEILL O S
PARKER T

PARSONS E F
PLANT J W
PLANT S
PLANT R
RIDGEYARD A
ROBINSON E
ROBINSON W
ROGERS E
ROUGHSEDGE P
ROUGHSEDGE S
ROYLE H
RUTTER J
SAVAGE F
SHALLCROSS G E
SHORT E
SPENDER T H
STEVENS T
STOCK T
STOCK W
TAYLOR E
TITTLE J
WHALLEY H
WITHENSHAW H
WITHENSHAW H
WITHENSHAW J
WITHENSHAW J
WITHENSHAW M
WITHENSHAW T H

THIS TABLET WAS ERECTED BY THE PARISHIONERS IN
GRATEFUL RECOGNITION OF THEIR SPLENDID SERVICES.