War Memorial, Knutsford, Cheshire.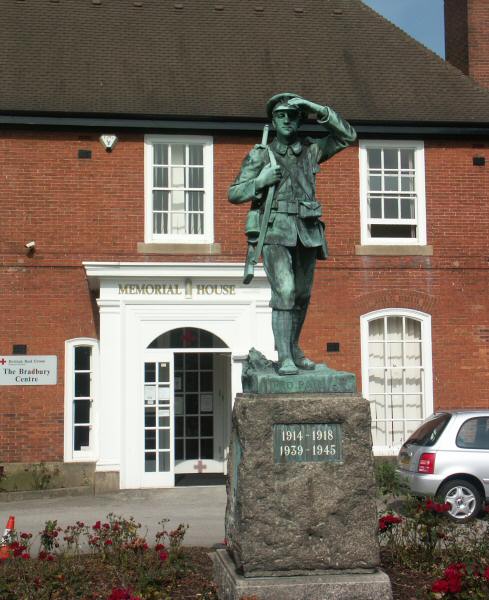 Location
The Memorial Hospital, Northwich Road, Knutsford, Cheshire. The building is now a day nursery and the headquarters of the local branch of the Red Cross.
Description
A statue of a soldier stands in front of the main entrance. A marble plaque protected by glass is fixed to an external wall. Inside the entrance hall, two wooden panels list those of Knutsford and surrounding villages who fell in the two world wars.

The WW1 panel includes sections for Knutsford, Mobberley, Pickmere, Mere, Tatton, Toft and Bexton, High Legh, Tabley Superior, Tabley Inferior, Marthall and Ollerton, Over Peover, Lower Peover and Allostock, Nether Peover, Peover Inferior, and "Plumbley" (better known as Plumley).

The WW2 panel includes sections for Knutsford, Lower Peover, Mobberley, Rostherne, and Tabley.
Inscription On The Marble Plaque
THIS HOSPITAL WAS FOUNDED
IN MEMORY OF THE GALLANT
MEN FROM KNUTSFORD & THE
SURROUNDING DISTRICT WHO
GAVE THEIR LIVES FOR KING
& COUNTRY IN THE GREAT WAR

1914 - 1918

THEIR NAMES ARE RECORDED
ON THE TABLET IN THIS HALL

IN MEMORY OF ALL RANKS
WHO DIED ON ACTIVE SERVICE
IN THE SECOND WORLD 1939 - 1945

Inscription On The Wooden Panels
KNUTSFORD AND DISTRICT
PRO PATRIA 1914 - 1918
KNUTSFORD

AINSCOE William
ALCOCK W Cecil
ALLEN William F
ATKINSON Albert
BAINBRIDGE W E
BAIRD Harry S
BARO Ian H
BARRY N J M
BEBBINGTON G A
BERRY Arthur
BIRKENHEAD G J
BOSTOCK M O
BOWERS Samuel
BOWLEY Edmond M
BRANDRETH G H
BRACEGIRDLE J
BRACEGIRDLE W
BRITCLIFFE T
BROOKES John
BROWN Harry
BURNS John
CASH Albert
CASH Donald
CASH George
CAULFIELD Daniel
CHAPMAN Joseph
CLARKE Harry
CLARKE Robert
CLARKE Leonard
CLAYTON William
COLLIER James
CONNOR Edwin
CRAGG Donald
CRAGG Harry
CORBISHLEY E
CORBISHLEY O
DANIEL Charles
DARLINGTON Frederick
DARLINGTON Fred
DARLINGTON Tom
DAVIES Hugh M
DAWSON A L
DOWNIE R T M
DOWNIE R A F
EDMUND Harry
FOSTER James
FOWLES J G
GARFT G W
GARNER Herbert
GARNER John
GILLETT Thomas
GERARD Geoffrey

GOUGH Ernest
GRIFFITHS James
GIDMAN Arthur E
GIDMAN Joseph
HAMMAN George
HAMMAN William
HAMMAN Joseph
HAMMOND John
HAYWARD Walter
HEALEY Percy
HOWARD Sydney
HOWARTH Samuel
HULSTON Arthur
ILLIDGE Harry
JACKSON W H
JARVIS Joseph
JOHNSON William
JONES C W
KEENS Fred
KENNERLEY George
KNOWLES Frank
LEA James
LEA Tom
LEECH Patrick
LEIGH William
LEONNARD John
LIGHT Harry
LOWE Edward
LOWE Joseph
LUCAS George
MERRIMAN G H
MACDONALD Keith
McGOWAN F P
MILNER Fred
MOORE Sidney
MOSTON Edward
MURPHY Peter
NORBURY James H
OAKES William E
OGDEN Eric
OLLIER William
PADMORE Fred
PARMENTER F W
PEERS George
PEERS Samuel L
PENN Mayson
PENNINGTON W
PARROTT Samuel
PICKERING C L
PIERSON Guy K
PRICE John
RAYNER Thomas
RICHARDSON Chas

RICHARDSON P E
RICHARDSON W
RIGBY Douglas M
ROBERTS Arthur P
RAWLINSON Joseph
ROYLE H
RUSHTON J
SIDEBOTTOM R Y
SIMON Harry
SINCLAIR Duncan
SLADE F
SLADE G W
SMITH Edward P
SMITH Fred
SPILSBURY James
SUMNER Arthur
TAYLOR Alfred
TAYLOR Brooke
THOMAS Sidney
THORNBER George
TONGUE William R
VERNON Percy
VERNON Harry
WATSON William
WHITE James H
WHITTAKER George
WILDING James
WILLIAMS Ernest
WHISTON William
WILSON Harold
WINSER Percy R
WUNSCH G S
YARWOOD John

MOBBERLEY

ACTON Charles
ALDCROFT Herbert
BAILEY Daniel
BAILEY Vernon
BARBER James R
BARROW Joseph
BAYLEY Lionel
BRACEGIRDLE G J
BRERETON R
BROWN Leonard
BROWN William
BURGESS John A
BURGESS Harry R
CLARE Arthur
CONSTERDINE J
COOPER William
DANIEL Samuel
DANIEL Thomas
EDEN William

GOTT William
GREAR William
HATTON Henry
HOULDEN Thomas
JOHNSON Arthur
JOHNSON Harry
JONES Horace W
KINGSLEY Donald
KIRK Frederick
MURPHY William
NORBURY Robert
NORBURY Samuel
ROGERS Thomas
SAUNDERS Fred
WARD William
WEBB Colin

PICKMERE

HARRISON T H
KETTLE A

MERE

BARNES John
BRADLEY James
BRADLEY Stephen
BURGESS Sidney
DALTON Harold C
DRINKWATER Peter
FORD Benjamine
FINN James
LLOYD Merryn
PIERPOINT Harold W

TATTON

BAILEY John
SKELHORN James

TOFT AND
BEXTON

CURBISHLEY A E
JACKSON Thomas
NORBURY Reginald

HIGH LEGH

HULME George
MELROSE Robert
SIMPSON John C
SOUTHERN John
TUNSTALL William H
TUNSTALL Francis A

TABLEY
SUPERIOR

FAGAN James
PRESTON James M
RILEY Charles
VICKERS Charles
WHITE James H
WHITTAKER Ernest


TABLEY
INFERIOR

LEICESTER Sidney
WHITTAKER George

MARTHALL
AND
OLLERTON

BASKERVILLE G E
BASKERVILLE J F
BEBBINGTON H
BOWERS A
BOWERS S
DANIELS C H
GRESWELL L W
GRESWELL H G
JACKSON A
JOHNSON F
MOSTON L
WILKINSON W
WILSON W N

OVER PEOVER

EDWARDS Fred
GROVES Ernest
GROVES George
HALE Alfred
LOVER Charles
STREET William
TAYLOR Wilfred

LOWER PEOVER
ALLOSTOCK

BARBER Thomas
CORK Christopher
DUTTON Willaim H
HARROP Alfred
HARROP James
HULSE Herbert

NETHER
PEOVER

EYRES John
TICKLE George

PEOVER
INFERIOR

BELL Philip
CORK Thomas
HULSE John
PEARCE William

PLUMBLEY

BELL John T
BESWICK Albert
BURGESS Charles
GREGORY George
KENT Harry
LOMAS William H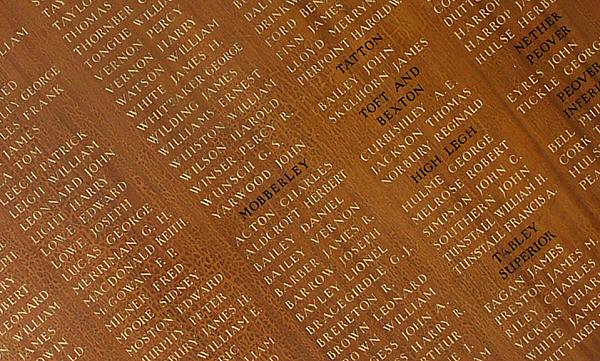 KNUTSFORD AND DISTRICT
PRO PATRIA 1939 - 1945 AND SINCE

H ASHBY
R BALLANTINE
E BELLARS
R BOND
S BROOKES
W A BROOKES
J BROWNRIGG
A BUCKLEY
H BUCKLEY
K BUCKLEY
S L BUCKLEY
W M BURKE
J CAVENEY
B CHORLTON
J COGGINS
A CONNOR
A CURBISHLEY
J CAULFIELD
H DANIEL
F A DOBSON
R J ELLIS
J EDWARDS

W FOY
G A HAMMAN
J O HAMMAN
H HATTON
L M HESKETH
J HIGGINSON
A HILL
L A IKIN
J P JARVIS
T JACKSON
A JONES
C LAMB
R LEA
G LEACH
J A PENNINGTON-LEGH
T OLLIER
J R PATTERSON
J E SIMCOCK
M H SIMON
J SNOW
A TICKLE
Noreen TROWELL

W E WALKER
J WALSH
G WARBURTON
J WARBURTON
J A E WILLIAMS
SINCE 1945
D A HADDEN
LOWER PEOVER 1939-1945
J BUCKLEY
J H HOWARTH
MOBBERLEY 1939-1945
J BAILEY
A GROVES
R HOLDEN
C LONGRIDGE
J ROBERTS
E SOUTHERN
F TAYLOR
D TOMLINSON
W WARBURTON
T YEARSLEY

ROSTHERNE 1939-1945
W D DUNKERLEY
A HENSHALL
D G KELLY
J W LOMAS
E PEERS
R A PICKERING
J W REYNOLDS
W SHAW
G A YODDAM
TABLEY 1939-1945
J BECKE
M BECKE
A F CRAVEN
S S WALTON
G J WHITEHEAD