Memorial, Cheshire Regiment, India, 1843.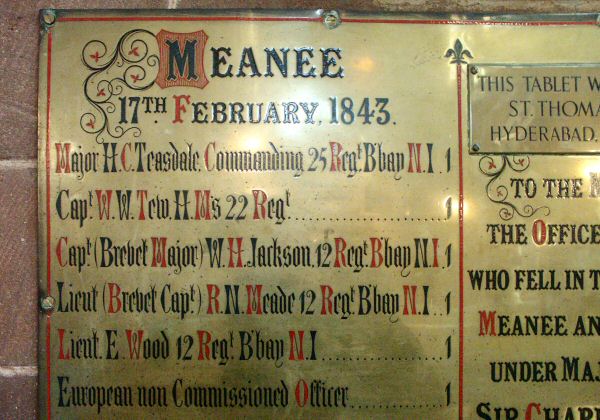 Location
In the south transept of the Cathedral, Chester, Cheshire.
Description
Two memorials to those of the Cheshire Regiment who lost their lives at Meanee and Hyderabad, India, in 1843.

- A brass plaque, originally in St Thomas Church, Hyderabad, names the officers but gives only the numbers of men.

- A memorial carved into the stone wall of Cheshire Regimental Chapel names officers and men.
Inscription on the brass plaque
MEANEE


17th February 1843

Major H C TEASDALE Commanding 25 Reg't B'bay NI
Cap't W W TEW HM's 22 Reg't . . . . . . . . . . . . . . . . . . . .
Cap't (Brevet Major) W H JACKSON 12 Reg't B'bay NI
Lieut (Brevet Cap't) R N MEADE 12 Reg't B'bay . . . . . .
Lieut E WOOD 12 Reg't B'bay NI . . . . . . . . . . . . . . . . . . .
European non Commissioned Officers . . . . . . . . . . . . . .
Privates of HM's 22 Regiment . . . . . . . . . . . . . . . . . . . . .
Native non Commissioned Officers . . . . . . . . . . . . . . . . .
Sepoys . . . . . . . . . . . . . . . . . . . . . . . . . . . . . . . . . . . . . . . . .


1
1
1
1
1
1
24
2
30
62



THIS TABLET WAS MOVED FROM
ST THOMAS CHURCH
HYDERABAD, SIND, in 1952


TO THE MEMORY OF
THE OFFICERS AND MEN
WHO FELL IN THE BATTLES OF
MEANEE AND HYDERABAD
UNDER MAJOR GENERAL
SIR CHARLES NAPIER
KCB
THE CONQUEROR OF SIND


HYDERABAD


24th March 1843

Cap't GARRATT 9 Regiment Bengal Light Cavalry
Lieut J C SMITH 1 Troop Horse Artillery . . . . . . . .
Lieut Frank BURR 21 Reg't NI Mortally Wounded
Privates of HM's 22 Regiment . . . . . . . . . . . . . . . . . .
Sepoys . . . . . . . . . . . . . . . . . . . . . . . . . . . . . . . . . . . . .


1
1
1
23
14
40

Inscription on wall of the chapel:
Killed in Action
at Hyderabad
24 March 1843

Corporal John BELL


Privates
William ARTHURS
William BROAD
John COLLINGS
Hugh COLLINS
Elija COLLISON
Edward DEEGAN
William ENGLAND
Henry FEALE
Michael GRIFFIN
George LUNN
Thomas McLELLAND
James MARTIN
Thomas MIDDLETON
Thomas OAKLEY
John PILKINGTON
Edward REGAN
Charles RIDER
David SALLIS
John STAUNTON
Francis THORNTON
John WYNNE


Killed in Action
at Meanee
17th Feb 1843

Captain J McTEW
Sergt Robert MARTIN
Corpl Patrick CRISM
Corpl John HICKEY


Privates
William BROWN
Daniel BRENAN
Michael COOGAN
John COLGAN
John ENNIS
James FARNIN
Patrick HEGARTY
Isaac HOWES
Michael HURLEY
John HYDON
Joseph JAMES
Eugene McCARTHY
Peter McCLUSKY
Hugh McPRETTY
Alaxander MOFFATT
Thomas MOLYNEUX
John NAVIN
John O'BRIEN
James O'DONNELL
Theodore PERRINS
William RAVENSCROFT