Roll of Honour, Congregational Church, Hyde, Cheshire.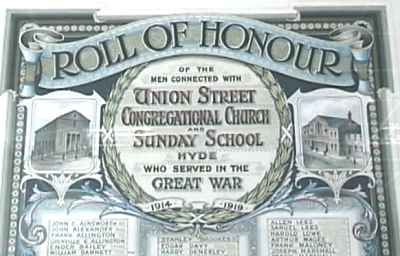 Location
In The United Church, Union Street, Hyde, Cheshire.
(In Tameside, Greater Manchester, since the 1974 county boundary change).
The Roll of Honour originally belonged to the Congregational Church on the same site.
Description
A parchment naming those from the church who served in the armed forces during the first world war and identifying those who died.
Inscription
ROLL OF HONOUR
of the
Men connected with
UNION STREET
CONGREGATIONAL CHURCH
and
SUNDAY SCHOOL
HYDE
who served in the
GREAT WAR
1914 - 1919
John C AINSWORTH
John ALEXANDER
Frank ALLINGTON
Grenville E ALLINGTON
Enoch BAILEY
William BARNETT killed
Arthur BEARD
Frank BEARD killed
Harold BEARD killed
Harold BEARD
(Broadbottom) killed
William BEARD
Ernest BENT
Harold BENT
George BICKERDYKE killed
James BIRCHENOUGH
Frank BLACKSHAW
Clarence BOOTH killed
Joseph BOOTH
Walter BOOTH
John BRADBURY
Tom BRADBURY
James BRADLEY
Edward BRAITHWAITE
Harold BRAITHWAITE
Thomas BRAITHWAITE
Tom BRAHALL
Alec BREAKY
Frank BRETLAND
Frank BROADHURST
Alfred BROOMER
Frank BROOMER
Herbert BROOMER
A Reginald BROWNSON
killed
Horace BRUCKSHAW killed
Harold BURY
John W BURY
Walter BURKETT
John W CADMAN
Maurice CASHMORE
Fred CATTLE killed
David CHADWICK
Walter CHADWICK
Walter CHORLTON
Arthur W CLARKE
James CLARKSON
Joseph W CLARKSON
John CLAYTON
Albert E COOKE
Wesley CRAIG
Frederick H CRAVEN
Leslie DAVIE killed
Stanley DAVIE

Stanley BROOKES
Edgar DAVIE
Harry DENERLEY
James E DENERLEY
John DENERLEY
Stansfield DOXEY
W Ewart DRAKE
Jeremiah DUDLEY
Thomas E DURHAM killed
Ernest EARLAM
Arnold EATON killed
John EDWARDS
William EDWARDS
J Herbert FLETCHER
Harold FROST
William R GAMBLE
Harold GARLICK
Colin B GEE
George HARRISON killed
John HEATON
John J HICKLING
Walter HIGGINBOTTOM
John W HIGHAM
Frank HOLLAND
John HOLLAND
Albert HOWARTH
Arthur HUDSON
Hervey HUDSON
Thomas HUGHES
William HUGHES
Azariah W HULME
Robert HYDE
Harold INGLESON
Samuel JACKSON
Walter JENNER
Stephen LAXTON
George LEACH
George LEECH
John LEECH

Allen LEES
Samuel LEES
Harold LOWE
Arthur MAGEE
Frank MALONEY
Joseph MARSHALL
Percy MARSHALL
Stanley MARSHALL
Wilfred H MARTIN killed
Ernest MELLOR
Robert MELLOR
Walter MELLOR
Edgar MORISON
Fred MOTTRAM killed
Henry C MULHOLLAND
R Eric NORTH
Samuel O'CONNOR
Tom H OLDHAM
Edwin PEARSON
Herbert PEARSON
Percy PEDLEY
James E PENNINGTON
Isaac W PERKIN killed
George W PICKFORD
Walter PICKFORD
John POINTON
John PROCTOR
J William QUAYLE
Thomas K QUAYLE
Rowland RADCLIFFE
William REDFERN killed
William T REDFERN killed
Albert RHODES
Richard RICKSON
John ROBINSON
Samuel ROGERS
Thomas SHERWIN
William SMITH
Fred STAFFORD
George TAYLOR
Herbert H TAYLOR
Walter TAYLOR
William TAYLOR
Harold TEMPEST
Arthur TOWNLEY
Ernest WALKER
Arthur WHITTAKER
Joseph WILDE killed
Harold WILKINSON killed
Robert L WILLIAMS
William WRIGHT
Arthur WYNNE


LET THOSE WHOSE HEARTHS
THEY SAVED FROM SHAME
FOR MANY AND MANY AN AGE PROCLAIM
ETERNAL HONOUR TO THEIR NAME.


Carl's Cam