Roll of Honour, Baptist Church, Hyde, Cheshire.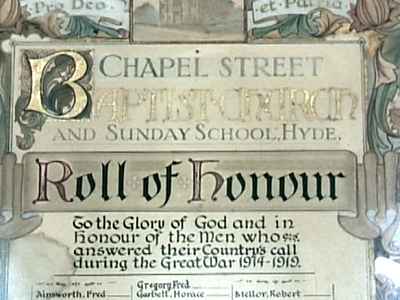 Location
In The United Church, Union Street, Hyde, Cheshire.
(In Tameside, Greater Manchester, since the 1974 county boundary change).
This Roll of Honour originally belonged to the Baptist Church on Chapel Street. It was re-located when the churches merged.
Description
A parchment naming those from the church who served in the armed forces during the first world war and identifying those who died.
Inscription
CHAPEL STREET
BAPTIST CHURCH
AND SUNDAY SCHOOL, HYDE
Roll of Honour
To the Glory of God and in
honour of the Men who
answered their Country's call
during the Great War 1914 - 1919.


AINSWORTH Fred
AINSWORTH Herbert
BAILEY Charles
BANKS Alfred
BARLOW George
BARNES John
BENNETT Samuel
BOOTHROYD Alfred
BOTTOMLEY James
BOWKER Albert
BRIDGE Ellis
BROWN Frank
BOWKER Arthur
CATLOW Willam
CATLOW Alfred
CHADWICK Harry
COLLINSON William
COPE Walter, MM
EYRE Ben
FOX George
FENTON Herbert

GREGORY Fred
GARBETT Horace
GASKELL William
GRAHAM Wallace
GRAHAM Nelson
HALL John
HALL Harry
HAMER Ernest
HAMPSON Frank
HEGINBOTTOM John
HEGINBOTTOM James
HENSHALL Harry
HOLLINGWORTH Robert
JARVIS David
JOHNSON Herbert
JOHNSON Tom
LEES Harry
MARSLAND Walter
MARSLAND Wilfred
MATLEY Joseph
McGRAW Andrew
McGRAW John


MELLOR Robert
METTRICK John
NAYLOR Allan
PAYNE William H
PLANT James
PEPPER William
PLATT Fred
PLEVIN John
PRATT Reginald H
PROCTOR Joseph
PROCTOR Clifford
ROEBUCK Joseph
SHAW Fred
SHAW Ernest
SHIPLEY Herbert
SLATER John
SLATER Joseph
SNOW Hubert
STAINTHORPE Tom
WILDE Arnold
WRIGHT Fred


------------------------
The Following made the Supreme Sacrifice

BOOTH William E
EYRE Edwin, MM
LEECH Andrew
LOCKYER Harold W

MOORES Fred
PURSGLOVE John S
SCHOOLDEN Jesse D
SLATER Harold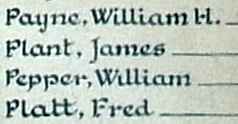 Carl's Cam