War Memorial, Hartford, Cheshire.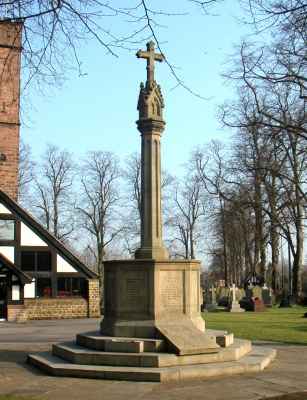 Location
In front of John's Church, Hartford, Cheshire.
Description
A stone cross. Panels on the base record the names of those of Hartford who fell in the first and second world wars.
Inscription
TO THE GLORY
OF GOD
AND
IN GRATEFUL
REMEMBRANCE OF
THE MEN OF THIS PARISH
WHO GAVE THEIR LIVES
IN THE GREAT WAR
1914 - 1919
GREATER LOVE HATH
NO MAN THAN THIS
THAT A MAN LAY DOWN
HIS LIFE FOR HIS FRIENDS
S JOHN XV 13

ANDREWS George J
ARROWSMITH James E
BAILEY Albert
BAILEY Sydney
BENSON Gerald
BERRY Samuel
BODEN Edward
BODEN Charles B
CHESTERTON Harry
CLARE Francis G
COOKSON Joseph
COOMBES John
CROSSLEY Alan H
DAVIS Thomas
DIXON Harry
DUNNING Henry
EDWARDS John
EYES J Oswald
EYES Richard H
FORSTER James
GANDY William
GANDY Thomas
GATHERCOLE Charles B
GAUKROGER J Kenneth
GRAY A James
GREGORY Joseph
GRINDLEY Samuel
HATTON Enoch
HILDITCH Thomas
HILL John L
HODKINSON James
HOGG Harry B
HUGHES Harry
JONES J Wilfred
LAMB Thomas
LEICESTER James
LEIGH Harold
MANTON Frank
MOLYNEUX James T
MOORS George
MOSS Charles A
NANCOLLAS George
NAYLOR George H
PERRIN John
PIGGOTT Thomas
PRINCE Ernest
RAMSDEN M Graham
RAMSDEN Ralph
REYNOLDS Guilio C
SCOTT Richard B
STANT Frank
STUBBS Charles E
SWEENEY Frederick
THORNTON Gilbert
THORNTON Leonard
TODD-NAYLOR W Brian
TRICKETT Edward
TURNER Tom
WATTS Harry
WILKINSON James H
WILLIAMSON George P
WRIGHT Harold
YOUNG Harry A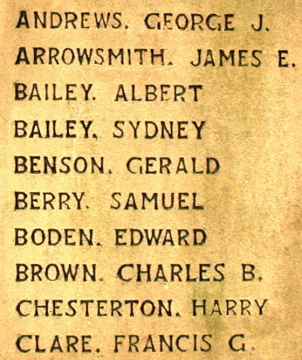 ------------
THIS TABLET IS ADDED
IN MEMORY OF THESE MEN
OF THE PARISH WHO DIED
ON ACTIVE SERVICE
IN THE WORLD WAR
1939 - 1945

BECKE Jack
BECKE Michael
BLEASE William
BROWN Alan
CORKER Gerald
CROWE Aubrey G
DEAN Herbert
GARNER Joseph T
HARRIS Allen
HODGSON Philip B

HOUSTON David A
HUGHES Wilfred D
LEDWARD Joseph
MARKS David K
MARROW Alfred A
MOSS Frank M
PRICE Frank
SEAMAN Arthur L
SYKES Reginald S
WAKEFIELD Ernest

"AT THE GOING DOWN OF THE SUN
AND IN THE MORNING
WE WILL REMEMBER THEM"