War Memorial, Frankby, Cheshire.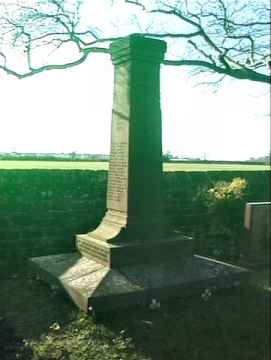 Location
In the grounds of St John the Divine's Church, Frankby, Cheshire.
(In Merseyside since the 1974 county boundary change).
Description A sandstone obelisk engraved with the names of the men of Frankby and Greasby who died in the two world wars. Some of the engraving is worn and not easy to read. Alongside the original is a modern black marble tablet, freshly engraved with the same names sorted into alphabetic sequence. The transcription below is taken from the marble tablet.
Inscription
In Proud Memory Of Those Who Sacrificed
Their Lives In The Two World Wars
1914 ~ 1919
Harold ATKINSON
Walter ATKINSON
Septimus BARLOW
Frank BOOTH
George I COOKE
Hugh CRUTTWELL
Edward DAVIES
George DEVANNEY
James DEVANNEY
John EDWARDS
Ernest HOUGHTON
Richard HOUGHTON
Edward HUGHES
Alfred KENDRICK
Thomas KENDRICK
Matthew O'NEILL
Ernest ROGERS
Arthur SALISBURY
Harold SAXON
John SCOTT
William SCOTT
Ernest SHONE
Charles L SMITH
William A STALLARD
Henry THOMPSON
Horace WILLIAMS
George T COOKE


1939 ~ 1945
Thomas COOGAN
James E DODD
Stanley DODD
George E FARDOE
Stuart G FINNES
James HALSALL
Ralph B HARRIS
William F HENDERSON
Frank HUGHES
Neville JENNINGS
Wilfred JONES
John C KINSGLEY-SMITH
Richard A LEWIS
Ernest MARRIOTT
Desmond N MURPHY
Ronald MURPHY
Charles POVALL
Albert SHONE
John E TALBOT

They shall not grow old, as we that are left grow old:
Age shall not weary them, nor the years condemn.
At the going down of the sun, and in the morning,


We will remember them.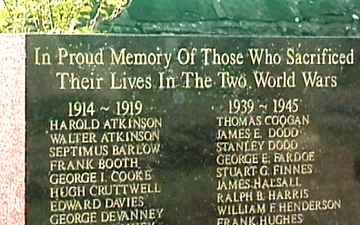 Carl's Cam