War Memorial, Eccleston, Cheshire.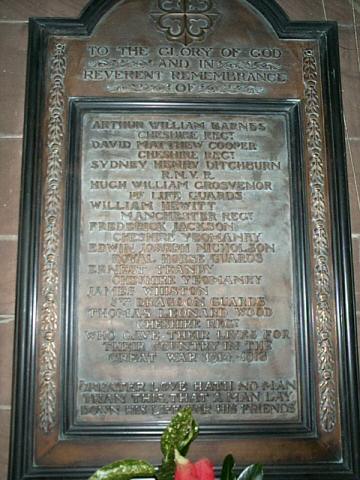 Location
In St Mary's church, Eccleston, Cheshire.
Description
Two war memorials. A bronze plaque lists those of the parish who fell in the first world war. A wooden panel lists those who fell in the second world war.
Inscription
TO THE GLORY OF GOD
AND IN
REVERENT REMEMBRANCE
OF
Arthur William BARNES

Cheshire Regt

David Matthew COOPER

Cheshire Regt

Sydney Henry DITCHBURN

RNVR

Hugh William GROSVENOR

1st Life Guards

William HEWITT

Manchester Regt

Frederick JACKSON

Cheshire Yeomanry

Edwin Joseph NICHOLSON

Royal Horse Guards

Ernest TEANBY

Cheshire Yeomanry

James WHISTON

5th Dragoon Guards

Thomas Leonard WOOD

Cheshire Regt
WHO GAVE THEIR LIVES FOR
THEIR COUNTRY IN THE
GREAT WAR 1914 - 1918
GREATER LOVE HATH NO MAN
THAN THIS, THAT A MAN LAY
DOWN HIS LIFE FOR HIS FRIENDS

------
IN REVERENT MEMORY OF

Ian Arthur Neilson BRINSON

Fleet Air Arm

Neville Frederick DANCE

Royal Navy

Mark George KERR

Rifle Brigade

Leslie Victor MORAN

Royal Air Force

Charles Leslie ROUGIER

Lancashire Fusiliers
WHO GAVE THEIR LIVES
FOR THEIR COUNTRY & FOR FREEDOM
IN THE SECOND WORLD WAR
1939 - 1945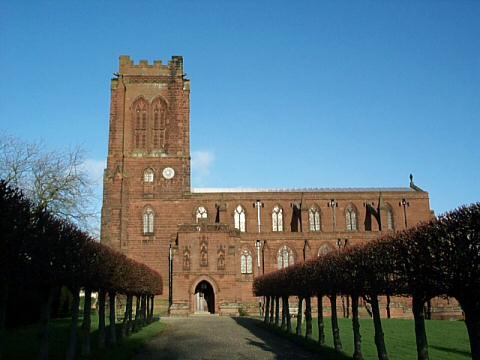 Thank you
To Adrian Sissons for the photos on this web page.