War Memorial, Tranship Shed, Crewe.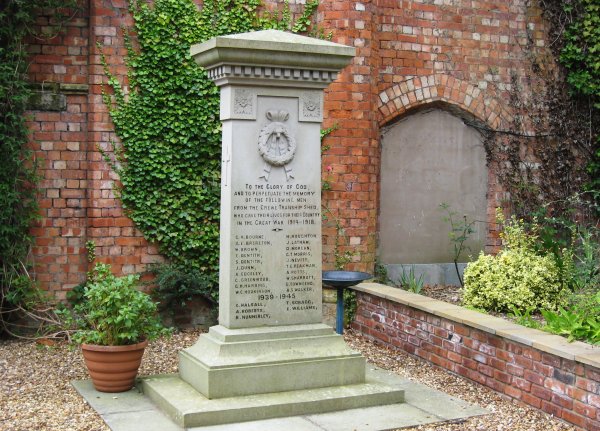 Location
In the ruins of Christ Church, Crewe, Cheshire.
Description
A sandstone tablet recording the names of the men of the Crewe Railway Tranship Shed who lost their lives in the first world war.
Inscription
TO THE GLORY OF GOD,
AND TO THE PERPETUAL MEMORY
OF THE FOLLOWING MEN
FROM THE CREWE TRANSHIP SHED,
WHO GAVE THEIR LIVES FOR THEIR COUNTRY
IN THE GREAT WAR 1914 - 1918.
G H BOURNE
A E BRERETON
W BROWN
E DENTITH
S DENTITH
J DUNN
A EDGELEY
C GREENWOOD
G H HARDING
W C HODKINSON

H HAUGHTON
J LATHAM
D MORGAN
G T MORRIS
J NEVITT
T E PEAKMAN
A POTTS
W SHARRATT
E TOWNSEND
A S WALKER


1939 - 1945

E HALSALL
A ROBERTS
H NUNNERLEY

T SCRAGG
E WILLIAMS