Memorial, Burma 1887 - 1890, Chester Cathedral, Cheshire.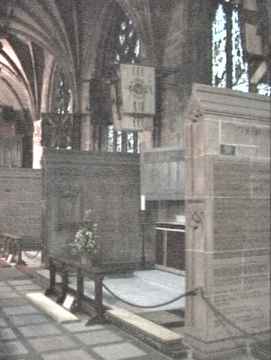 Location
In the Chapel of the Cheshire Regiment in the south transept of the Cathedral, Chester, Cheshire.
Description
A number of memorials are carved in the stone walls of the Chapel. Three memorials name those of the Cheshire Regiment who lost their lives in Burma between 1887 and 1890.

The text is difficult to see (lack of light and cordoned off). Some is missing from this transcription.
Inscription
2nd Battalion
Operations in
Burma 1887-9
Sgt Richard ROLAND
Cpl G H GIBSON
Lce Cpl Charles LUXOM
Harry SIMMS
Dr S W BARBER

Privates:
Charles BERESFORD
Henry BROWN
Thomas DALE
William DRURY
Thomas FARRELL
Joseph FERUS
Robert FRASER
William HADEN
Thomas HOOKS
John ISHERWOOD
George JACKMAN
James LEIGH
James MAHER
Thomas MARGERSON
------------
Killed in Action

CHIN -LUSHAI
EXPEDITION
23rd MARCH 1890
MAJOR F.E.C.H.
Gordon CUMMING

Cpl Ralph HUNTER
Lce Cpl John WYNNE

Privates
George BRAZIER
William BROWN
Frank CADMAN
John DAVIES
James FOSTER
John JACKSON
Evan JONES
George KING
John McMANUS
William THOMPSON
------------
Died on Foreign
Service 1st Batt
1885 to 1904
OF WOUNDS RECEIVED
IN ACTION
Pte John WATSON
CHIN HILLS Dec 3rd 1889
OF DISEASE
TWO HUNDRED AND TWENTY
SEVEN NCOs & MEN