War Memorial, Prices Candle Works, Bromborough Pool.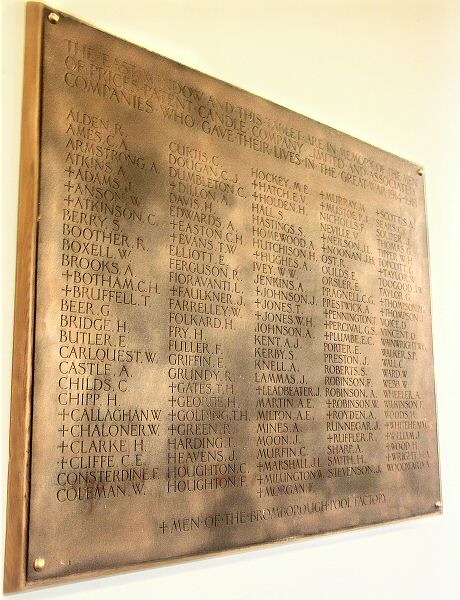 Location
In St Matthew's Church, Bromborough Pool, Cheshire.
Description
A brass panel naming men of Prices Patent Candle Company, and associated companies, who fell in WW1.

The above photograph was taken in difficult lighting conditions and does not do justice to the subject.
Inscription
THE EAST WINDOW AND THIS TABLET ARE IN MEMORY OF THE MEN
OF PRICES PATENT CANDLE COMPANY LIMITED AND ASSOCIATED
COMPANIES WHO GAVE THEIR LIVES IN THE GREAT WAR 1914 - 1918


ALDEN R
AMES C A
ARMSTRONG A
ATKINS A
+ ADAMS L
+ ANSON W
+ ATKINSON C
BERRY S
BOOTHER R
BOXELL W
BROOKS A
+ BOTHAM C H
+ BRUFFELL T
BEER G
BRIDGE H
BUTLER E
CARLQUEST W
CASTLE A
CHILDS C
CHIPP H
+ CALLAGHAN W
+ CHALONER W
+ CLARKE H
+ CLIFFE C E
CONSTERDINE F
COLEMAN W

CURTIS C
DOUGAN C J
DUMBLETON C
+ DILLON A
DAVIS H
EDWARDS A
+ EASTON C H
+ EVANS T W
ELLIOTT E
FERGUSON R
FIORAVANTI L
+ FAULKNER J
FARRELLEY W
FOLKARD H
FRY H
FULLER F
GRIFFIN E
GRUNDY
+ GATES T H
+ GEORGE H
+ GOLDING H
+ GREEN R
HARDING T
HEAVENS J
HOUGHTON C
HOUGHTON F

HOCKEY M E
+ HATCH E V
+ HOLDEN H
HALL S
HASTINGS S
HOMEWOOD A
HUTCHISON H
HUGHES A
IVEY J J
JENKINS A
+ JOHNSON J
+ JONES T
+ JONES W H
JOHNSON A
KENT A J
KERBY S
KNELL A
LAMMAS J
+ LEADBEATER J
MARTIN A E
MILTON A E
MINES A
MOON J
MURFIN C
+ MARSHALL J L
+ MILLINGTON W
+ MORGAN F

+ MURRAY M
+ MUSTOE P J
NICHOLLS F
NEVILLE V
+ NEILSON J L
+ NOONAN J H
OST R
OULDS E
ORSLER E
PRAGNELL C G
PRESTWICK A
+ PENNINGTON T
+ PERCIVAL G S
+ PLUMBE E C
PORTER E
PRESTON J
ROBERTS S
ROBINSON F
ROBINSON A
+ ROBINSON W
+ ROYDEN A
RUNNEGAR J
+ RUFFLER R
SHARP A
SMITH H
STEVENSON J

+ SCOTT S A
SEARS C
SOUPER J
THOMAS G
TIPPER W H
TOPCOTT G
+ TAYLOR W
TOOGOOD J W
TAYLOR G
+ THOMPSON P G
+ THOMPSON J
VOICE D
VINCENT O
WAINWRIGHT W G
WALKER S P
WALL C
WARD W
WEBB W
WHEELER A
WILKINSON F
WOODS H
+ WHITEHEAD G
+ WILLIAM J
+ WOOD H
+ WRIGHT H A
WOODWARD A

+ MEN OF THE BROMBOROUGH POOL FACTORY