War Memorial, Great Budworth, Cheshire.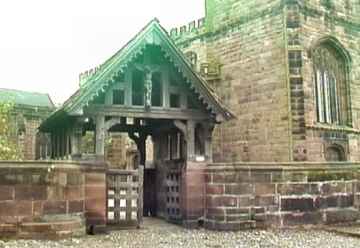 Location
St Mary & All Saints Church, Great Budworth, Cheshire.
Description
Cast metal plaques inside the lich-gate. There are three lists of names. Those of the parish who fell in the first world war, served in the first world war, fell in the second world war.

Inscription
In humble thankfulness to Almighty God for the blessing of
Victory and Peace and in undying memory of those who went
forth from this Parish to fight for the Right and laid down
their lives in the cause, this Lych Gate is dediated MCMXX

S ADAIR
R C ADAIR
A ATKINSON
J G BRAMHALL
E COOK
A J DALE
F DICKENS
H DICKINSON
J EGERTON-WARBURTON
J GOULDING
T H HARRISON
H HARTLEY
H V HUBBARD, DCM
J HULME

A KETTLE
S LEICESTER
P MADDOCK
W MILLINGTON
F NAYLOR
J PERCIVAL
J RADCLIFFE
W RATHBONE
J C RIGBY
R STANLEY
P STAPLES
R SMITH
J TURNER
G WHITTAKER

The souls of the righteous are in the hand of God & there shall no torment touch them. In the sight of the unwise they seem to die & their departure is taken for misery & their going from us to be utter destruction but they are in Peace"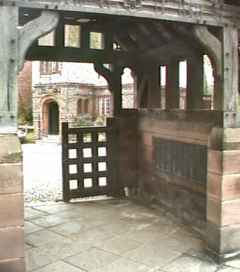 ------------
The names of those of this Parish who served in the Great War 1914 - 1918
A ACTON
C ACTON
J ACTON
T ACTON
W ACTON
F C ADAIR
G H ALBISTON
H ALLEN
H ANDERSON
T ANDERSON
W ANDERSON
P M ARMITAGE, OBE
G B ARMSTRONG
F C ASTLES
G ASTLES
J W ASTLES
W ASTLES
A ATHERTON
W ATHERTON
J ATKINSON
J E ATKINSON
H BAKER
J BAKER
R BAKER
G B BANNISTER
W H BANNISTER
H BEBBINGTON
J BEBBINGTON
W BEBBINGTON
W BESWICK
W BIRTLES
J E BLACKSTOCK
H BLAIN
J A BLAIN
W BOOTH
G BOWDEN
H BOWYER
W BRAMHALL
J BROCKLEHURST
R H BROOKES
F BROWN
J BROWN
W J CLARKE
J R COCKSEY
J COE
J CONWAY
T COOPER
T W COWAP
A CROSS
G CROSS
G H CURBISHLEY
G CURBISHLEY
J T CURBISHLEY
W CURBISHLEY
W T CURBISHLEY
E DALE
F DALE
A DAVIES
P DAVIES
W DAVIES
C DAWSON
C DAWSON
E DEAN
J J DICKENS
J W DICKENS
J DRINKWATER
T W DRINKWATER
L DUTTON
J EATON
T F EATON
G EGERTON-WARBURTON, DSO
F EVANS
G F FORD
H FOSTER
J FRITH
P FRITH
G GARNER
J GATLEY
T GATLEY
W GUBBINS
J HARRISON
W HARRISON
F S HART
Jno HASPELL
Jos HASPELL
H HASSALL
A HAYES
J HAZELHURST
S HEATH
A HEESON
W HEWITT
C HINDLEY
O HINDLEY
C HOLDEN
T A HOLDEN
J HOUGHTON
N HAUGHTON
J HOWARD
Fd HUBBARD
Fk HUBBARD
G HUBBARD
G E HUBBARD
A HUGHES

H HUGHES
J HUGHES
R HUGHES
T E HUGHES
W HUGHES
J HULME
S JACKSON
A JOHNSON
H D JOHNSON
T H JOHNSON
F JONES
J M JONES
A JOYNSON
J LEES
C LEICESTER-WARREN
F LEIGH
J LEIGH
O E S LEIGH
O M LEIGH
J LEVER
J C LEVER, DCM
E N LITTLER
A E LLOYD
T F LLOYD
L LOVE
G R LOVE
H MADDOCK
A MATHERS, MM
S MATHERS
W MATHERS
W E MATHERS
D MILLER
A MILLINGTON
E MILLINGTON
H B MOORE
H NEWNS
L NEWNS, DCM
J NORCOTT
S OLLIER
A M F OSBORNE
H OWEN
J OWEN
C R PEARSON
J A PEARSON, MM
U PEARSON
S PLANT
A RAVENSCROFT
G A RENWICK
A RHODES
W E RICKARDS
J W RIDGWAY
T RIDGWAY
T H RIGBY
A ROBINSON
P ROBINSON
W ROSCOE
J ROWLINSON
F RUSTED
E SANDERS
C SANDERS
A SCOTT
F SCOTT
Jas SCOTT
Jas SCOTT
Jos SCOTT
W SCOTT
F SHAKESHAFT
F W SHAW
W M SHERWIN
J SHINGLES, MM
O SIMPSON
G S SMITH
H A SMITH
H S SMITH
P SMITH
W A SMITH
E SOUTHERN
W SOUTHERN
G SPENCER
R P SPENCER
S SPENCER
E STAFF
J STANLEY
W STEEN
F STREET
S STREET
B C SUTTON
J H SUTTON
J L TATE
F TAYLOR
J TAYLOR, MM
W H TAYLOR
C THURLWELL
F THURLWELL
H THURLWELL
H W WALKER
J T WALKER
J WHITLOW
G WHITTAKER
J WHITTAKER
J R WILKINSON
W E WRIGHT

Alice W BLACKSTOCK
Minnie BLAIN
Dorothy M NEWHALL
Mary WHITLOW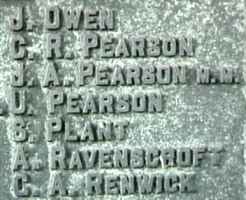 ------------
GREAT BUDWORTH
In undying memory of those who went forth from this
parish and laid down their lives in the cause of freedom
1939 - 1945
Sydney BYRAM
Hubert EVANS
George HOLLAND
Roger HUBBARD

Peter Mosley LEIGH
Thomas ROBINSON
Walter SCOTT
Kenneth WRIGHT

"We will remember them"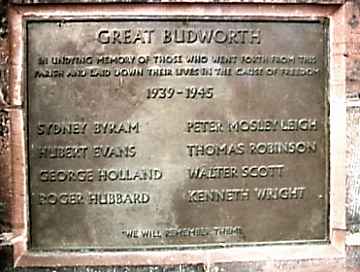 Carl's Cam