War Memorial, Rolls Royce workers, Crewe, Cheshire.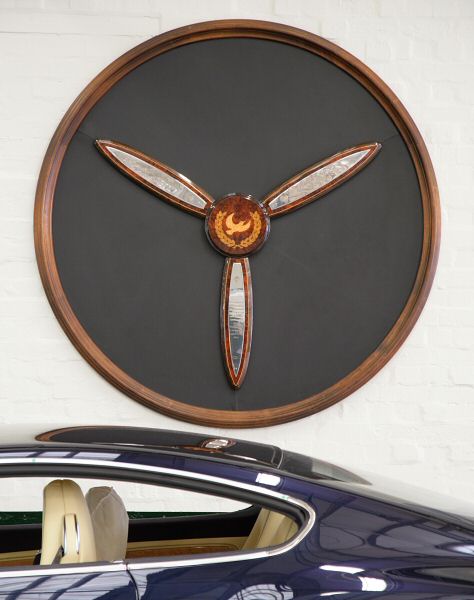 Location
In the main build hall of Bentley Motors, Crewe, Cheshire.
Description
A war memorial in the shape of an aircraft propeller. The inscription on the blades records the names of 17 people who were killed in a bombing raid in 1940.
Inscription
Elsie POTTS
Irene SNELSON
Muriel F HIGGINS
Kathleen M LAFFORD
William D LASCELLES
John E ABEL
Ellis BROUGH
Gilbert DAVIS
Henry FRAIL

Reginald LEE
William NAYLOR
John B HATTON
Samuel DUDLEY
William H WILLIAMS
Charles HARROP
John T NICKLIN
Cyril NUNNERLEY

This plaque is to
commemorate our
colleagues who lost
their lives at 3.09
p.m. on Sunday
29th December
1940
Whilst working
in the factory to
support the war
effort.

Notes
In the 1930s, Rolls-Royce Limited wanted to improve their facilities for the production of motor cars. They ordered a new factory to be built at Crewe. The threat of war intervened. When the factory opened it produced aircraft engines and components, not cars.

Crewe is an important railway junction, and with its factories in WW2 it became a target for German aircraft. In a bombing raid on 29th December 1940 the Rolls-Royce factory received a direct hit, killing the 13 men and 4 women workers named on this memorial.

Post-war the factory converted to its original intended purpose, the production of Rolls-Royce and Bentley motor cars. More recently, following a company de-merger and sale, the manufacture of Rolls-Royces moved elsewhere, leaving the Crewe factory to concentrate on Bentleys. Thus this memorial to Rolls-Royce workers is now in a Bentley factory.
Thank you
To Bentley Motors Limited for the above photograph, also to Bernard Smith for help in locating this memorial.