The Barnston Monument, Farndon, Cheshire.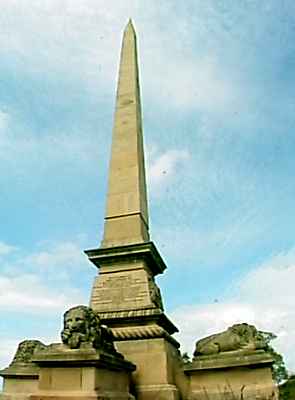 Location:
In a field, by the side of the B5130, Chester Road, a quarter of a mile north of Farndon, Cheshire.
Description:
A very tall stone needle guarded by lions, monument to Roger Barnston of Crew Hill, one mile south of Farndon, who died in India in 1857.
Inscription:
Erected in Memory of
ROGER BARNSTON ESQ're
OF CREW HILL, MAJOR AND BREVET LIEU't COLONEL
OF HER MAJESTY'S 90th LIGHT INFANTRY, C.B.
AND KNIGHT OF THE LEGION OF HONOR AND OF THE ORDER OF THE MADJIDIE;
BY HIS TENANTS AND FRIENDS

HE SERVED IN THE CRIMEAN WAR FROM THE 5th DECEMBER 1854;
AND WAS PRESENT AT THE SIEGE AND FALL OF SEBASTAPOL;
AND ALSO IN THE INDIAN MUTINY CAMPAIGN IN 1857
IN WHICH HE RECEIVED A SEVERE WOUND WHILST GALLANTLY LEADING AN ASSAULT
AT THE RELIEF OF LUCKNOW ON THE 16th NOVEMBER 1857,
FROM THE EFFECTS OF WHICH HE DIED AT CAWNPORE ON THE 23rd DECEMBER 1857,
AGED 31 YEARS,
AND WAS INTERRED IN THE MILITARY CEMETERY AT THAT STATION.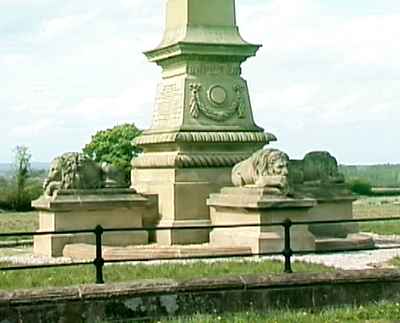 The monument bears an Ordnance Survey bench-mark, 96 feet above sea level.