WW1 War Memorial & Roll of Honour, St Mary's Church, Astbury.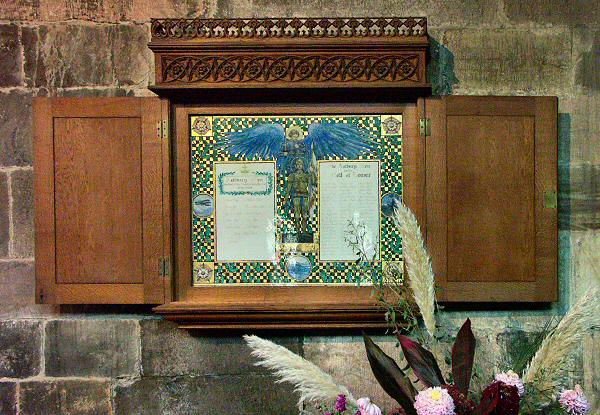 Location
In St Mary's Church, Astbury, Cheshire.
Description
A triptych displaying a WW1 memorial and roll of honour. On the left, the memorial names those of Astbury who fell. On the right, the roll of honour names those who served.
Inscription
A

stbury

M

en
who died for their

C

ountry during the

W

ar
1914 - 1919
Arthur CLIFFE
Harry STEELE
Hector John YATES
Arthur BALL
Walter MELLOR

William PULFORD
Henry Arthur HALL
Harold CLARKE
John POTTS
John CARR


George William PAINTER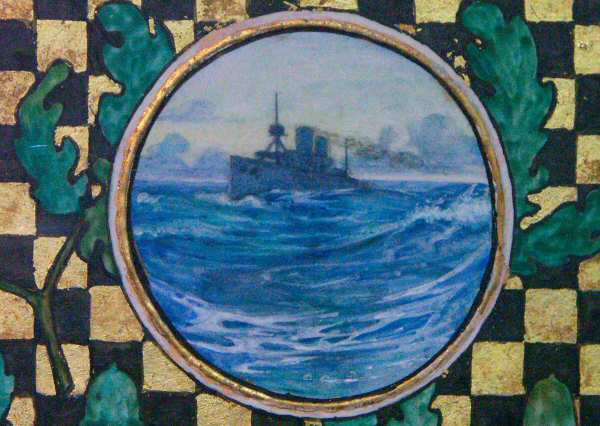 The Astbury Men
on the
Roll of Honour

Joseph BRINDLEY
James G CARTLIDGE
Willaim GOODWIN
George METCALF
John BOOTH
Alfred BOWKER
Arthur HUNT
Harry DAVIES
John CLIFFE
Wm SHUFFLEBOTHAM
Frank BAILEY
Harry PAINTER
Wilfred BARRETT
Charles DEAN
Frank BARKER
Arthur PAINTER
Ralph GODWIN
Joseph DAVENPORT
Walter PARKINSON
Reginald DAVENPORT
Frank GOODWIN
Albert WARD

Thomas DEAN
Cha's CUMBERBATCH
George YATES
Arthur POTTS
Ernest RATCLIFFE
Jonathan BOOTH
Charles SLATER
Harry PLANT
Joseph TIPPING
Thomas FORD
James PLANT
John HALL
Joseph TURNOCK
John STEELE
Frank BOWKER
William SMITH
Edward DODD
John HEASOM
Charles PEDLEY
Tho's BLACKSHAW
William CLIFFE
James ROWLEY

Thomas PAINTER
Arthur PAINTER
Alfred HICKS
George HEATH
John E CARTLIDGE
Cecil J SHELDON

(Choir)


George BUCKLEY
James STEELE
Arnold MARROW
John BROWN
George MINSHULL
John TURNOCK
Frank KIRBY
George POTTS
Tom HOLLAND
C Shakerley ACKERS
James PARR

(Choir)


Arthur SANDERSON
Harry YEARSLEY
William MOORES
John MOORES
John SMITH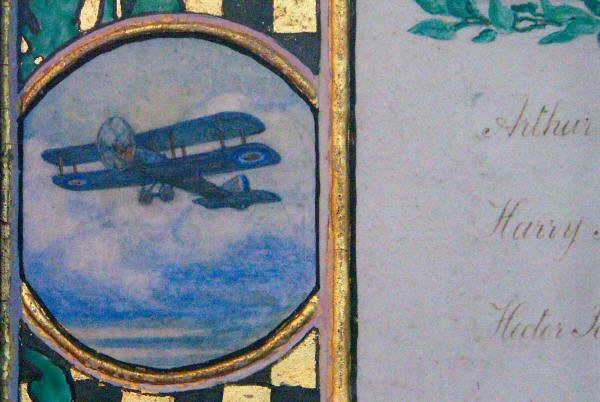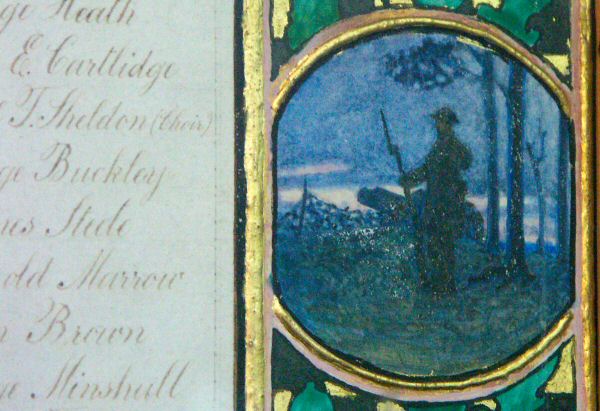 Notes
The elegant copper plate writing is now somewhat faded. I cannot be completely sure about my transcription, although I believe it is fairly accurate.