War Memorial, Anderton, Cheshire.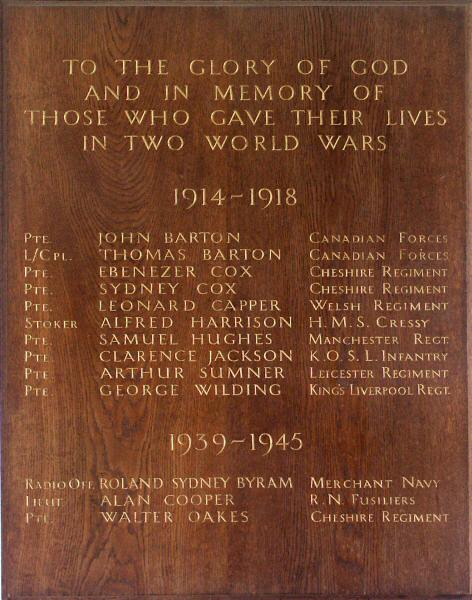 The Panel
Location
In the Memorial Hall, New Lane, Anderton, Cheshire.
Description
There are three war memorials mounted on the walls inside the hall. They include:

- a wooden panel naming those (presumably of Anderton) who fell in the two world wars,

- an illuminated manuscript naming those of the parish of Anderton who fell in the first world war,

- a set of four illuminated certificates, each naming an individual who fell in the first world war.
Inscription on the panel
TO THE GLORY OF GOD
AND IN MEMORY OF
THOSE WHO GAVE THEIR LIVES
IN THE TWO WORLD WARS
1914 - 1918

Pte
John BARTON
Canadian Forces
L/Cpl
Thomas BARTON
Canadian Forces
Pte
Ebenezer COX
Cheshire Regiment
Pte
Sydney COX
Cheshire Regiment
Pte
Leonard CAPPER
Welsh Regiment
Stoker
Alfred HARRISON
HMS Cressy
Pte
Samuel HUGHES
Manchester Regt
Pte
Clarence JACKSON
KOSL Infantry
Pte
Arthur SUMNER
Leicester Regiment
Pte
George WILDING
King's Liverpool Regt



1939 - 1945

RadioCr
Roland Sydney BYRAM
Merchant Navy
Lieut
Alan COOPER
R N Fusiliers
Pte
Walter OAKS
Cheshire Regiment






The Manuscript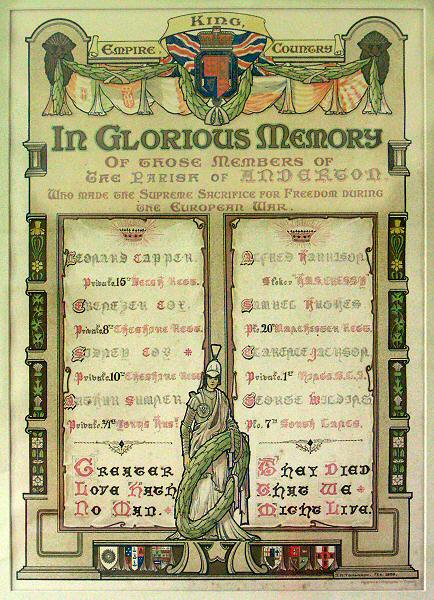 Inscription on the manuscript
KING
IN GLORIOUS MEMORY
OF THOSE MEMBERS OF
THE PARISH OF ANDERTON
WHO MADE THE SUPREME SACRIFICE FOR FREEDOM DURING
THE EUROPEAN WAR

Leonard CAPPER
Private, 15th Welsh Regt

Ebenezer COX
Private, 8th Cheshire Regt

Sidney COX
Private, 10th Cheshire Regt

Arthur SUMNER
Private, 2/1st Yorks Fus

GREATER
LOVE HATH
NO MAN


Alfred HARRISON
Stoker, HMS Cressy

Samuel HUGHES
Pt, 20 Manchester Regt

Clarence JACKSON
Private, 1st Kings S L I

George WILDING
Pte, 7th South Lancs

THEY DIED
THAT WE
MIGHT LIVE







One of the certificates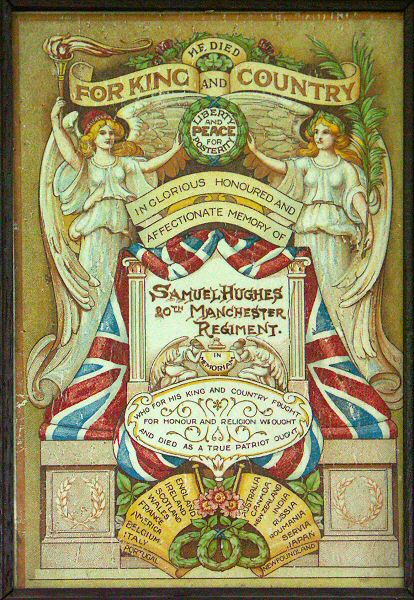 Inscription on the certificate
HE DIED
FOR KING
AND
COUNTRY
LIBERTY
AND
PEACE
FOR
POSTERITY
IN GLORIOUS HONOURED AND
AFFECTIONATE MEMORY OF
Samuel HUGHES
20th Manchester
Regiment

IN
MEMORIAM
WHO FOR HIS KING AND COUNTRY FOUGHT
FOR HONOUR AND RELIGION WROUGHT
AND DIED AS A TRUE PATRIOT OUGHT
ENGLAND
IRELAND
SCOTLAND
WALES
FRANCE
AMERICA
BELGIUM
ITALY
PORTUGAL

AUSTRALIA
CANADA
NEW ZEALAND
INDIA
RUSSIA
ROUMANIA
SERVIA
JAPAN
NEW FOUNDLAND

The other three certificates are identical except for the names and regiments which are:

Private
Leonard CAPPER
1/7th Welsh Regt

Sydney COX
10th Cheshire Regt

Private
Clarence JACKSON
Kings Shropshire
Light Infantry

Thank you
to Stan Darley who told me about this memorial.