War Memorial, Styal, Cheshire.
Location
Station Road and Stanneylands Road, Styal, Cheshire.
Description
A stone obelisk in (what looks like) white sandstone. It bears the names of those of Styal who fell in the two world wars.
Inscription
TO THE MEN OF STYAL
WHO LAID DOWN THEIR LIVES
IN THE GREAT WAR.
1914 - 1919
.
Brig Gen Noel LEE VD DL
Capt F A J EASTWOOD
Capt Arthur T GREG
Capt William H WATNEY
Sec Lieut Robert P GREG
Sec Lieut Noel E LEE
Sec Lieut Godfrey MASON
Sergt James GOLDSTRAW
Corp George ALLMAN
L Cp William BONE
L Cp Alfred SPROWSON
Pte Arthur ADSHEAD
Pte Joseph H BROWN
Pte James ASHPITAL
Pte Charles BOWYER
Gnr John T EARLAM
Pte Arthur FROST
Pte Arthur JACKSON
Pte Arthur JENKINS
Pte Harold JOHNSON
Pte Thomas LEAH
Pte Thomas MOORE
Pte Albert SCOTT
Pte Alfred WOOD
Pte John WORTHINGTON



1939 - 1945

F/O John L HALLIDAY
P/O Philip J HALLIDAY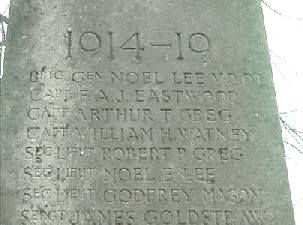 Carl's Cam