Remembrance Table Cloth, Stockport.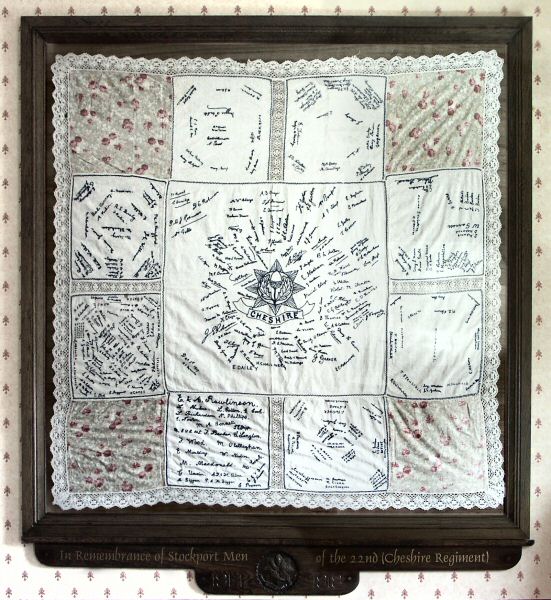 Location
In The Armoury, Greek St, Stockport.
Description
A linen tablecloth embroidered with many names, "In Remembrance of Stockport Men of the 22nd (Cheshire Regiment)". It is in a wooden frame, protected by glass, and mounted on a wall.

The cloth appears to have been embroidered during the first world war. Although the wooden frame shows "1914 - 1918", the cloth itself is embroidered with the date 1st December 1917.

The names appear to be of those who wish to remember, rather than those being remembered. Names are clustered into small groups, perhaps families, neighbours, or friends. They include members of many well-known Stockport families, and even a dog "Blackie", unless that is someone's nickname. The cloth represents a community remembering its relatives and friends still serving abroad, as well as those who have died.

The cloth comprises a large central panel surrounded by twelve smaller panels. The central panel and eight of the smaller panels are embroidered with names, in the form of signatures, in dark blue thread on a white background. Each of the panels has a different layout. This points to them having been done by different hands, who probably went round collecting signatures before embroidering them. The panels were then stitched together.

Ten of the signatures are indecipherable. I have omitted them in the following transcription. Others are difficult to read. I have put a question mark "?" against those I am uncertain about. Overall, the transcription is only about 90% accurate. I have taken the panels in a clockwise direction, starting with the panel top right (1 o'clock) and ending in the centre.
Inscription
In Remembrance of Stockport Men of the 22nd (Cheshire Regiment)
1914 * 1918

1 o'clock panel
G H FLANAGAN
L/Cpl Ivor HODSON
Sergt Trevor REES
J FERNLEY
Mary LEE
L/Cpl S LEE AFC
R B LEATHERBARROW
Emily MARTIN
Jannet FASNAR ?
Hannah LINNEY

Nellie BAILEY
Henry BARON
George BARON
Mrs TURNER ?
D BAILEY
J ADSWELL ?
L B RICHARDSON
M A BAILEY
M ARMITAGE
L B NICHOLSON

H BAILEY
E DOLEMAN ?
Welyn A MANLY ?
A ALLANSON ?
Sergt G PROPHETT ?
L BILLINGTON ?
S G PRECE ?
Florence BILLINGTON
Annie BAILEY



2 o'clock panel
H JONES
F NUTTALL
C BARBER
L BARBER
J BARBER
S HOPWOOD
D HOPWOOD
W GARRETT
M JACKSON
E HIGGINBOTTOM

T BIRCH
G C TAYLOR
G J JACKSON
Valter CLARKE
Frank PARKER
I LEIGH
Harry LEE
I F HATTON
Amy L MASON
Doris GOULD

A F FORSTER ?
M CHADWICK
Doris COCKROFT ?
Ada SHAW
Elaine SIDEBOTTOM
C GRIFFITHS
C KAY
E K SIDEBOTHOM ?
M Louise HEAUWEL ?



4 o'clock panel
Maud HUGHES
M A OLDHAM
Fanny LORAN
Emma JASON
Eve WHISTON
Mary WHISTON
MARY WHISTON

E OLDHAM
Edith M TEAN ?
M STANSFIELD
Ivy WHISTON
J M GRAHAM
T STANSFIELD
K W WINBOLT

Joseph WOOD
V WHISTON
Blanche W WINBOLT
John W NEEDHAM
M TRIGGS
Maria TOWN ?



5 o'clock panel
A BRIERLEY
Casie GRAHAM ?
F TURNER
E EVANS
Pioneer E CLAYTON
E MOODY
M HEATON
M E HIGHAM
W H LEA ?
Mr T CLAYTON
Emily WRIGHT ?
E GRAHAM
E S WILLIERS
Dorothy WRIGHT
S F SHIPHAM

G D MOODY ?
A M SAYLE
Eric WRIGHT
James WRIGHT
May DAVIES
E DAVIES
O DAVIES
Cpl W CLARKE
Pvt H HAMER
M SANDERSON
M EVANS
Ethel CLAYTON
Carie MOORE
A MOODY
M A MOODY

E ENSTONE
James LEIGH
Mrs T CLAYTON
Hilda CLAYTON
D SHAWCROSS
H TAYLOR
Russell CLAYTON
W JACKSON
N S JACKSON
H TAYLOR
M EVANS
P HAMPSON
R WATTS
Lily WARREN
Mrs CLAYTON



7 o'clock panel
E & A RAWLINSON
L HULME
L COTTON
G COOK
L RICHARDSON
N PHILLIPS
E NEWTON
M A BENNETT
J E TRIPP

M BURNS
F BARBER
C LANGTON
F WOOD
M O'CALLAGHAN
E MOULDING
W NADIN
M MACDONALD

E COOK
G UNWIN
A J & H SIME
E & V SIME
J TURNER
M BIGGAR
P & H BIGGAR
E PRESSON





8 o'clock panel
R D GLEDHILL
J MEREDITH
A MEREDITH
E SAYER
A MEREDITH
C MEREDITH
M J JONES
A SIDEBOTTOM
A HOLLINSHEAD
N SMITH
J B HARRISON ?
W WOOD
L ARMITAGE
J WOOD
P ROBSON
F ASHTON
A ATKINSON
F HARVEY
E BRADLEY
D FORSTER
H HOWARD
J FORSTER
M NUTTER
M ATHERTON
J WOOD
J HOOLEY
E SIDEBOTHAM

J WHITTLE ?
A WHITTLE ?
F HUNT
M MEREDITH
F MEREDITH
E ASHTON
E CHILDS
E ROBERTS
H MILLIGAN
R BRINDLEY
W SIDEBOTHAM
A P MEREDITH
F FRIEND
M ASHTON
A RICHARDSON
Amy RICHARDSON
A E HEWITT
A GRIFFITHS
S MEREDITH
Julia CROMPTON
A E FERNLEY
N WOOD
E B SHAW
L BALL
A NORTHERN ?
L B ASHTON
A SMITH

E MEREDITH
E WOODWORK
R CHARLES
Amy K RICHARDSON
A GNOSS ?
E BRADLEY
N M ROBINSON
H M ROYAL
E MEREDITH
M ARMITAGE
R T BELL
N ROBINSON
M WRIGLEY
E POOLE
E FROGGATT
J BANKS
A E WOOD
E KNOWLES
P JONES
A CHARLES
M MILLER
J J ASHTON ?
A CROSSLEY
E A C TAYLOR
M S GOULD ?
J GOULD



10 o'clock panel
A HARRISON
BLACKIE
A JACKSON
C HARROP
E WALKER
R S DINLEY
F PARKIN
Pte A BRAYFORD
N B LEA
L J POOLE
J SWIFT

J SWINDELLS
J E WILLIAMS
A WINDER
S JONES
S PINCHIN
L TIDEWELL
L HENDLEY
Miriam JONES
M TERRY
M BLACKSHAW

A PINCHIN
M COTTINGHAM
B SWINDELLS
Edith WALKER
N BLACKSHAW
J DANIELS
E SWINDELLS
E HATHAWAY
Bob CARNEY
A PARKIN



11 o'clock panel
M J FISHER ?
Maggie STUBBS ?
M SUTTOR
Alexander FARRIAS
Joy ROSE
R N V ROSE

Tilly CHARLES
Mrs BROWN
Miss TETLOW
Edith WILKINSON
N PRIEST ?
Mary KEMP

Arthur BILLING
Audrey PICKFORD
E G ROSE
Raymond E ROSE ?
William BARRATT



Central panel
J V HANCOCK
C ARMITAGE
D E ROBINSON
P U J ROBINSON
Mrs GIBBS
M W CLAYE
H BOURNE
Barbara BOURNE
E BARLORS ?
A B CLAYE
S J DESMOND
E DESMOND
T E JACKSON
S E JACKSON
M BAMFORD
M F CLAYE
C IMGHAM
E MOTTERSHEAD
E GATLEY
L GOODYEAR
Jack WILKINSON
G W GARRETT
B CREASBY
S E MOTTERESHEAD
Lucy SLEIGH
E LITCHFIELD
E E LEACH
S E NEEDHAM
Emilie STEVENS
Audrey HANCOCK ?
E J GARNER
Amy SMITH
B M HOLLINS
Wm ROBINSON
M H WARD
J KENNERLEY
E WALKER
Violet M FENTON

F BASSHAM
E D RIDINGS
G E AKIND ?
PeggY SCOTT
W SCOTT
J DENFIELD
E NEEDHAM
G NEEDHAM
Muriel CLAYE
Sarah FARMER ?
E YATES
C G CALTHROP ?
W E BASSHAM
I BRINDLEY ?
William HAND ?
Mary N HAND ?
E JONES
J TIMPERLEY
B THOMAS
A C CALTHROP
S CLAYE
M NEEDHAM
W L ROBINSON
Daisy H GORDON
E C NETHERWOOD
M MOOR
Geo WALKER
Emily s CLAYE
M NEEDHAM
Emma GORDON
J GARNER
L ROBINSON
E BETMAN
H M BLACKETT
F E MATHER
Edith SEWELL
Emily K MARTCOTH ?
M RIDING

P M J ROBINSON
C E GLOVER
M RHIND
Mary M ROBINSON
F DAVENPORT
H CHALLINER
J R GORDON
E DAILEY
E C MOORE
H N O NEEDHAM
F L SYMES
L BRADSHAW
Francis M BATEMAN
H C CLAYE
J E ROBINSON
B N ADAMS
Dorothy SYMES
A TIPPINGS
E HOPE
W W BASSHAM
W SYMES
Edith BATEMAN
M S CLAYE
M G LANCASTER
B REDFERN
M HOLEHOUSE
Doris ROBINSON
M HILL
S HILL
J GRUNDY
S CANNON
C MATHER
F BALL
Edith M MOORHOUSE
N SEWELL
Frederick ROBINSON
H W JACKSON


Dec 1st 1917
M F SYMONDS