War Memorial, Romiley, Cheshire.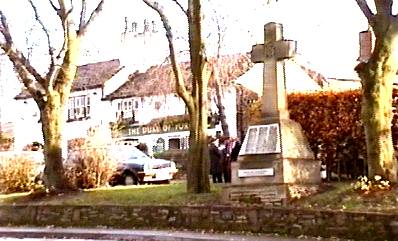 Location
Near The Duke Of York, Stockport Road, Romiley, Cheshire.
(In Stockport, Greater Manchester, since the 1974 county boundary change).
Description
A stone cross standing on a solid base. The names of those of Romiley who fell in the first world war are painted on a panel fixed to the base.
Inscription
James AINLEY
Tom ANDERTON
Ralph BANNER
Thos H BARBER
Harry BENTLEY
Geo BRANDON
James 0 BRIDGE
Walter BROOKES
Samuel BRUCKSHAW
Walter BURGESS
Albert CHEVALIER
Thos R COLOHAN
Samuel CUNLIFFE
Geo G DAVISON
Robert T DAVIDSON
John T DOYLE
Arthur EAVES
Edward FOY
David GOODE
Julius GREGORY
Samuel HAMER
Harry HIBBERT
Norman D HOWARTH
Cephas HOWARD
Edward HUGHES
Harry HUGHES
H H JALLAND
James R KINSEY
John KNIGHT
Edward LEES
Frank LIVELY
Ralph LOMAS

John MOORES
Duncan McWILLIAM
Stuart McWILLIAM
James MARSHALL
Chas H MATTHEWS
Ernest MORRIS
Jos Victor MALPAS
John OGDEN
Geo PATTINSON
Edward F PONTING
James PREECE
Jas RHODES
Frank RHODES
Ellis ROWSON
Obdh REDFERN
Fred ROBBINS
Bertram SMITH
Norman SMITH
Andrew B SMITH
Richmond SMITH
Frank SCHOLES
Herbert SWINDELLS
William SWINDELLS
Ernest SWINDELLS
Cyril SWINDELLS
Seth SWINDELLS
John TAYLOR
Thomas WATSON
Samuel S WHALLEY
James W WHIPP
Robert WHITTAKER
Joseph ZORIAN
James WILLIAMSON

1914 - 1918
Greater love hath no man than this,
that a man lay down his life for his friends
Willoughby Wild and Sons, Sculptors, Hyde.
Carl's Cam