The Grave of Henry ROBINSON, Hatherlow.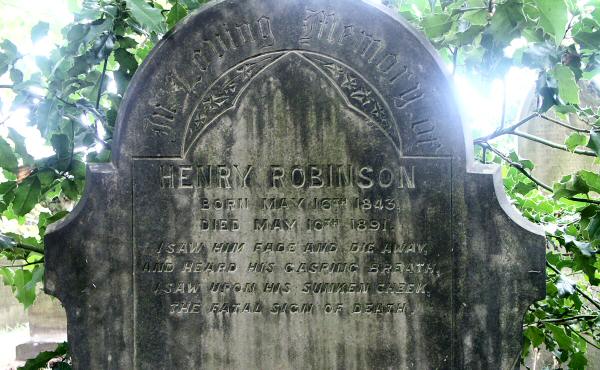 Location
In the graveyard of Hatherlow United Reformed Church (formerly Hatherlow Chapel), Romiley.
Description
A headstone marking the grave of Henry ROBINSON, 1891.
Inscription
IN LOVING MEMORY OF
Henry ROBINSON
BORN MAY 16th 1843
DIED MAY 10th 1891

I SAW HIM FADE AND DIE AWAY,
AND HEARD HIS GASPING BREATH,
I SAW UPON HIS SUNKEN CHEEK,
THE FATAL SIGN OF DEATH.
Comment
There is a curious contrast between the sentiment "In loving memory" at the top of this headstone and the verse beneath.