A grave at Chadkirk.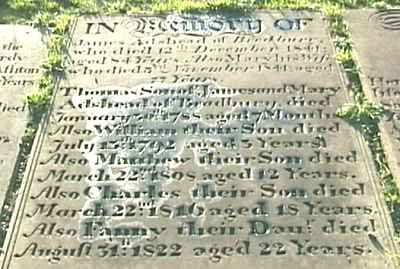 In Memory of
James ADSHEAD of Bredbury
who died 12th December 1841
aged 84 Years. Also Mary his Wife
who died 3rd November 1841 aged
77 Years.
Thomas son of James and Mary
Adshead of Bredbury died
January 30th 1788 aged 7 Months.
Also William their Son died
July 15th 1792 aged 5 years.
Also Matthew their Son died
March 22nd 1808 aged 12 Years.
Also Charles their Son died
March 22nd 1816 aged 18 Years.
Also Fanny their Dau' died
August 31st 1822 aged 22 Years.
Carl's Cam