To give Glory to God for the
memory of the men of Poynton
who laid down their lives
for the cause of humanity
in the Great War 1914 - 1918.
Joseph ARMITAGE, Spr RE
Harold BAGNELL, Pte Chesh Regt
Joseph BENNETT, Pte KOYLI
Eric BOOTH, Pte Chesh Regt
James BOOTH, Pte Monm Regt
Frank BRYNING, Pte Chesh Regt
William BUTTERWORTH, Pte Chesh Regt
Philip CARTRIDGE, Pte Chesh Regt
David GOODWIN, Pte Chesh Regt
Albert GREEN, Gnr RGA
John William HAIG, Pte Chesh Regt
William HARTLEY, Pte Monm Regt
Thomas HENSHALL, Pte Chesh Regt
Joseph HOOLEY, Pte Chesh Regt
Edward JONES, Pte RMLI
Samuel Joseph LLOYD, Spr RE
Randolph NEEDHAM, Pte Chesh Regt
Alfred Vincent PARKIN, Pte Lancs Fus
George PLATT, Spr RE
Alfred Edward POLLARD, Pte RASC
Robert POOLE, Gnr RFA
Dexter POTTS, Cpl Chesh Regt
Wright RIDGWAY, Pte Chesh Regt
Arthur SINGLETON, Sfth Hors
Bertram Harold TAYLOR, Pte S Lancs Regt
William TURNER, Pte Chesh Regt
George F A Lord VERNON, Capt Derb Yeom
Leonard WAINWRIGHT, Pte Chesh Regt
William WALTERS, Sgt M/c Regt
Stanley WARBURTON, Sre Lv Lancs Fus
Joseph WILD, Gnr RFA
John Henry WOOD, Cpl Chesh Regt
Arthur WOOD, Cpl Chesh Regt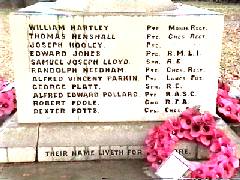 In memory of those of Poynton
who laid down their lives
in the Great War 1939 - 1945.
They shall not grow old as we that are left grow old,
age shall not weary them nor the years condemn,
at the going down of the sun and in the morning we will remember them.

William H ASHTON, Pte RAOG
Harry BAILEY, Sgt A Gnr RAF
Quida BENNETT, Cpl ATS
Fred BEELEY, Gnr Malay States VF
Philip BROWN, Gnr HAARA
Reginald BUFFEY, AC RAF
Harold C CLAYTON, AB RN
Reginald J DOUGHTY, Sgt RAF
Edward HALL, AC2 RAF
Robert HALL, L Cpl West Yorks
Frank HALLWORTH, Sig RA
John HILLS, Cpl 2nd Mon Rgt
William HORROCKS, Flt Sgt RAF
Arthur JONES, Dr RASC
Arthur JOHNSON, Sig 8th Mc Reg
Herbert LLOYD, Sgt RASC
Phillip L LLOYD, Sgt RAF
William S OSTLE, Sig RCS
Raymond PEAKE, PO RAF
Norman PENDLEBURY, Sgt RAF
Douglas C PERRY, OS RN
Norman D RAINS, Flt Sgt RAF
Eric J SEDDON, LAC
Basil SHAWCROSS, Cpt REME
John F SHAWE, LS RN
Ronald D SPEAK, Flt Sgt RAF
Eric TIMPERLEY, PO RAF
Richard C WALTON, Sgt AA RAF
John WARING, L Cpl RASC
John WARRINGTON, Sgt B RAF
Donald S WOOD, Sgt P AAC
Eric YORK, Pte AD