Memorial to James Green, 1836 - 1873.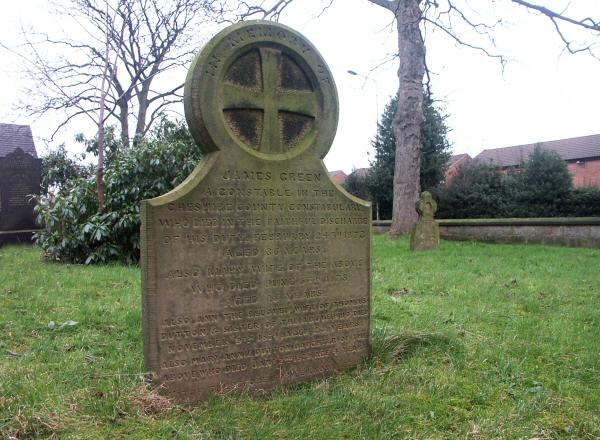 Location
In the yard of St Peter's Church, Elworth, near Sandbach.
Description
A headstone marking the grave of James GREEN, a police constable murdered while on duty.
Inscription
IN MEMORY OF

JAMES GREEN
A CONSTABLE IN THE
CHESHIRE COUNTY CONSTABULARY.
WHO DIED IN THE FAITHFUL DISCHARGE
OF HIS DUTY. FEBRUARY 24th 1873
AGED 36 YEARS


ALSO MARY WIFE OF THE ABOVE
WHO DIED JUNE 5th 1873
AGED 28 YEARS.


ALSO ANN THE BELOVED WIFE OF THOMAS
DUTTON & SISTER OF THE ABOVE WHO DIED
NOVEMBER 9th 1874. AGED 23 YEARS.


ALSO MARY ANNIE DUTTON DAUGHTER OF THE
ABOVE WHO DIED JAN'y 2nd 1879. AGED 4 YEARS.


W

ATCH THEREFORE. FOR YE KNOW NEITHER
THE DAY NOR THE HOUR.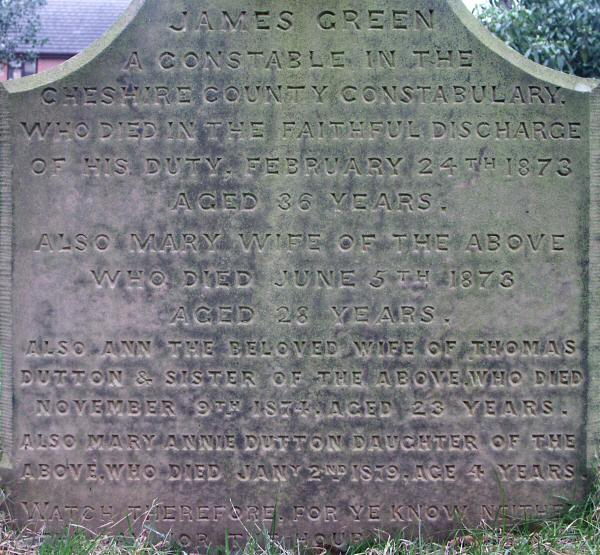 Notes
Based on articles in The Crewe & Nantwich Guardian of the period.

James GREEN became a constable in the police force at Chester, and spent some time there in the campaign against the Fenians. Following this he was posted to Sandbach where he worked for five years, living nearby in Moston.

James BUCKLEY also lived in Moston. He was apprehended by Green for theft and spent a month in prison. After his release the thefts started again.

One February evening Green went to keep surveillance on Buckley but never returned. In several days of searching, boodstains were found in an outhouse at Buckley's home. A nearby section of the Trent and Mersey Canal was drained. Green's battered body was found in the canal close to the suspect's home.

An inquest in April named Buckley as the murderer. However, the evidence was circumstancial. Buckley claimed that the blood belonged to a pig he had just killed. (Apparently, the experts of the day were unable to tell the difference between pig and human blood). Neighbours testified that Buckley had been at home that evening, and all had been peaceful, no sound of a fight.

After a trial at Chester Assises in May the jury spent only ten minutes considering the evidence before giving a verdict of Not Guilty. Buckley was released and returned home.

Green's widow died in June. The local newspaper reported the funeral, and said of Mrs Green: "For some time previous to the murder of her husband she had been in a weakly state of health, but the shock given to her by her husband's death was so severe that she rapidly grew worse, and succumbed...."

The headstone shows that tragic events continued to stalk the family. The widow's sister died the following year shortly after giving birth. The baby survived for just four years.

James Green came from Handbridge, Chester. His wife, Mary, was from Christleton. They left three orphans, the youngest being 15 months old.