War Memorial, Dane Bridge, Northwich, Cheshire.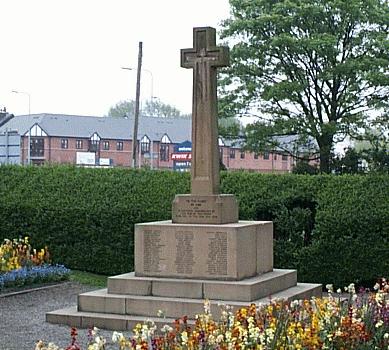 Location
On London Road, Northwich, near Drill Field Road.
Description
A stone cross standing on a substantial stone base. The base is inscribed with the names those of the parish who fell in the two world wars. The parish church of St Paul, Dane Bridge, Northwich, used to stand nearby.
Inscription
TO THE GLORY
OF GOD

AND

IN GRATEFUL REMEMBRANCE OF
THE MEN OF THIS PARISH
WHO FELL IN THE WAR 1914 - 1919.

Charles ABBOTT
Thomas ABBOTT
David ASHBROOK
James ASTLES
James ATHERTON
Samuel BARNES
John BARRY
Joseph BOAG-MUNROE
William H BODEN
Harry BOWKER
John W CONNELLY
Ernest COOKE
Thomas CROSS
John E CULLEN
Thomas W DAVENPORT
Edward DOLAN
Joseph DUTTON
David DUTTON
Joshua S EYES
James FALLON
Stanley GREGORY

Samuel HANKEY
David HARRADINE
William HOLLAND
Harold HOLLAND
John HOOLEY
James HUNT
Hugh JONES
William I JONES
Thomas KELLY
John KILGALLON
Harold LEIGH
Reginald LITLER
J Alfred W LOWE
George W LOWE
Joseph MADDOCK
George MAINWARING
Abraham MOORES
Peter MORAN
Andrew MORAN
Norman NORTON
Robert PEACH

Charles PEMBERTON
Fred PLATT
John POOLE
Albert ROBINSON
R Arthur ROUT
Philip SANDBACH
Nathan SANDBACH
William SENIOR
G William SHORE
William SILVER
Richard N SMITH
Richard SWEENEY
Patrick SWEENEY
John G TAYLOR
Thomas TOMLINSON
James WHITTINGHAM
Joseph T WILDING
Ernest WILKINSON
Gordon WILKINSON
Albert WITHENSHAW
Ernest YARWOOD

------------
1939 - 1945
Alexander BETTELEY
Albert BYROM
Frederick GARNER
Thomas HEATH
Samuel NICHOLLS
Cyril POOLE
Kenneth STOUT
Edgar WASHBURN
William CAIN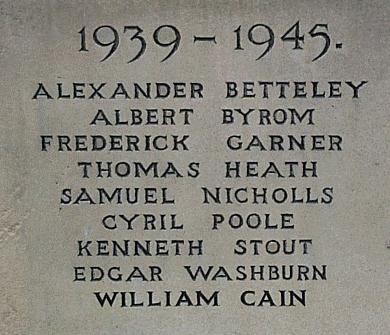 Thank you
To Adrian Sissons for the photos on this web page.