War Memorial, Mellor, Derbyshire.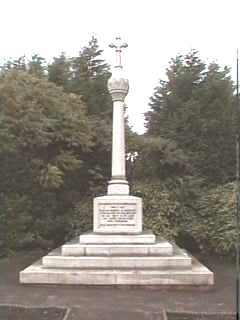 Location
Longhurst Lane and Parkside Lane, Mellor, Derbyshire.
Mellor has been affected by two county boundary changes. It was originally in Derbyshire, in 1936 it became part of Cheshire, in 1974 it returned to Derbyshire.
Description
A stone cross. It bears the names of those of Mellor who fell in the two world wars, and in the Korean war.
Inscription
THIS MEMORIAL IS ERECTED IN PROUD
AND LOVING MEMORY OF THE MEN OF MELLOR
WHO GAVE THEIR LIVES FOR FREEDOM.
Their name liveth for evermore
1914 - 1918
Cyril ATKINSON
Arthur BURGESS
Joseph BROUGH
Ernest BROUGH
Fred'r BURDEKIN
Frank BURDEKIN
Albert BRADLEY
Paul BRACHI

Fred CARTER
Charles B DAVIDSON
Samuel DIXON
William ERNILL
David P FITZMAURICE
Evelyn O FURNISS
John GRIFFITHS
E Douglas HELME


------------

William JOHNSON
John LAYCOCK
Thomas F MARSLAND
George MADDOCK
Robert NIELD
Thomas G NAVEN
Percy OLDHAM

Joseph J SIDEBOTHAM
Charles C SHAW
Alan SIGLEY
Fred'r W SUTCLIFFE
Joseph H WILD
Jas E WITHERS
Harry A WAINWRIGHT


------------

1939 - 1945

Gilbert ASTIN
Donald BRADSHAW
Brendan H FORDHAM
Raymond JOYCE
Cyril LAYCOCK

Frank O'CONNOR
Bryan REYNOLDS
Evan M SKELLEY
John WIGLEY
Lawrence J YEATES

------------
Korea 1950 - 1953
George David RUDGE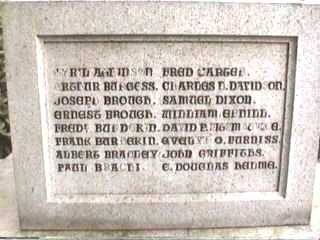 Carl's Cam