War Memorial, Marple, Cheshire.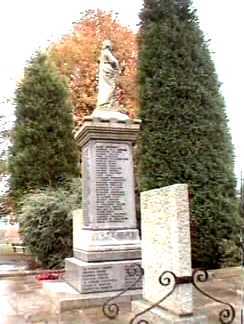 Location
Memorial Park, in the centre of Marple, Cheshire.
(In Stockport, Greater Manchester, since the 1974 county boundary change).
Description
A column supporting a statue. The column bears the names of those of Marple who fell in the two world wars.
Inscription
WAR MEMORIAL PARK.
THIS LAND WAS GIVEN BY THE
CARVER AND BARLOW FAMILIES OF THIS PARISH
IN MEMORY OF THE MEN OF MARPLE
WHO FELL IN THE GREAT WAR
1914 - 1918,
AND THE LAYING OUT WAS
DONE BY PUBLIC SUBSCRIPTION.

Frank ALLEN
Herbert ADSHEAD
John ARCHER
Joseph ARDERN
Robert ASHTON
Fred ATKINSON
Leonard AUSTIN
William AUSTIN
Geoffrey H BAGSHAWE
Harold C BARLOW
William BARNES
Colin BARTON
Carlos C BATES
Joseph BELL
Ernest BENNETT D.C.M.
Joseph BENNETT
Josiah BENNETT
Thomas BENNETT
John T BOOTH
Joseph BOOTH
Ernest BRADBURY
Joe BRADDOCK
Frank BRADWELL
G Bowden BROCKLEHURST
Sidney J BROCKLEHURST
Allan BROOM
John BROWN
Donald H BUDENBERG
Joseph BURRELL
Harold M BURTON
Clarence BYROM
Basil A CARVER
Oswald A CARVER
W Herbert CHANEY
Harold COOKE
Harold COOPER
William COOPER
A Gordon CRESSWELL
Frank T DAWSON
Robert G DAWSON
William DEAN
Robert C DIXON
Joseph DUDDY
James DUXBURY
William DUXBURY
John EUSTACE
Arthur J FARMER
James FERNLEY
Albert FERNS
George FIELDING
Walter FLETCHER
Walter FLINT
Charles FORTH
Edward W FOWLER
Harry FROST
Fred GARDINER
William GODDARD
Norman GREAVES
Ernest GREENHALGH
Wilfred GREENWOOD
Joseph HAGUE
Dennis HALL
John W HALLAM
Herbert HALLWORTH
John W HALLWORTH
Thomas HALLWORTH
John HAMPSON
Jack HARDY
Frank HARGRAVES
Bernard H HARTLEY

Arthur HAYES
John W HAYES
Joseph HOLLAND
Arthur HOOLE
Fred HOPWOOD
Walter HOPWOOD
J Leslie HOWARD
Charles Henry INGHAM
F E BRADSHAW-ISHERWOOD
J Edward JACK
Cyril B JOHNSON
James KERSHAW
William LEIGH
Fred LLOYD
Roland MATHER
Egbert MackBETH
Joseph McDERMOTT
Donald McLAINE
Benjamin MILLER
George W MILLER
Alec MORGAN
Burt MORRIS
Edward MYCOCK
Oswald NEAL
Alan NORBURY
Charles R H ORFORD
Benjamin PHILIPS
George PHILIPS
Fred PICKFORD
Raymond PICKFORD M.M.
Horace PLATT
Samuel PLATT
Thomas PLATT
Stanley PROCTOR
Arthur RHODES
Stanley RIDGWAY
Fred RILEY
Leonard ROBINSON
J Everatt SHARPLES
Norman SHARPLES
Kenneth SINCLAIR
Charles E SLATER
Bertram SMITH
Richard SPEAKMAN
W Arthur STOTT
Alfred SUTTON
Harry SYLVESTER
C Frederick TAYLOR
Granville TAYLOR
William K TAYLOR
John TEFT
Frederick THELWALL
Samuel THELWALL
Arthur M TOMLINSON
David TOTTERDELL
Ernest H TRUST
Raymond WALTER
Stanley WARBURTON
William E WARD
Thomas G F WARNER M.M.
John S Collings WELLS V.C. D.S.O.
Sidney WILLSHAW
Walter C WOODCOCK
Henry WOODHOUSE
Thomas WRAY
Edward YARWOOD
Richard YARWOOD
Edmund Turner YOUNG
Malcolm H YOUNG





------------

1939 - 1945

Frederick R BATTERTON
William BASNETT
Cyril BEARD
Anthony G BIRD D.F.C. and Bar
Ronald M BLEAKLEY
Godfrey BRIDGE
Roland BROWN
David CLARKE
William COCKS
Stanley DIXON
Frank DOWNS
Albert W GIBSON
Thomas E GREEN
Anthony G HAMMAN
George HAYNE
John HAZELHURST
Alan HIGGINBOTHAM
James HOLLAND
Samuel KIRK
Thomas LONGDEN
Donald McMILLAN
Peter MacNAB
Charles L A MALLETT
Ernest P MESSENGER

Robert K MOTTERSHEAD
Leslie J MYCOCK
Frank K NIELD
Edwin OLDHAM
John C PARROTT
Harry PICKFORD
Donald RICHARDS
John J RIDINGS
Fred PORCHER
Leonard ROBINSON
Kenneth SHAW
Cyril A SHELDON
William SHUTTLEWORTH
Thomas SKELLERN
Robert SMITH
James H SOWERBY
William TAYLOR
Harold P TEW
Harold F TYRRELL
John WALKER
George WHALLEY
Gordon A C WILSON
Thomas WOOD
Alfred HEATH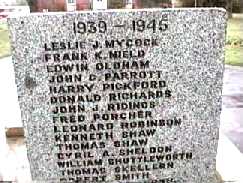 Note
Captain Oswald Armitage CARVER of the Royal Engineers named on this and the Holmes Chapel war memorials left a widow Elizabeth A N CARVER. After 12 years a widow she re-married, this time to Brigadier Bernard Law Montgomery. She died in 1937, before Montgomery's promotion to Field-Marshal.
Carl's Cam