War Memorial, All Saints Church, Marple, Cheshire.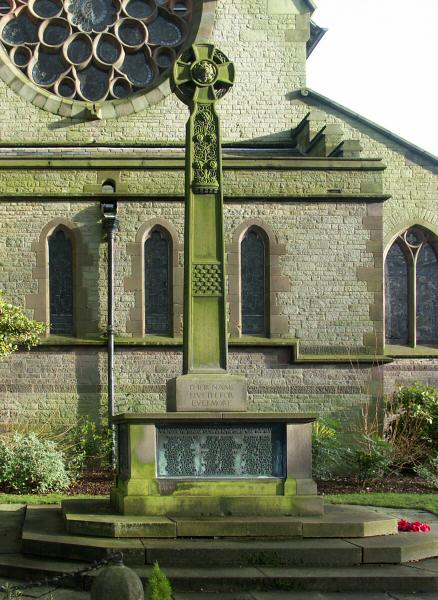 Location
In front of All Saints Church, Church Lane, Marple.
Description
A stone cross set on a stepped base. Cast metal plates on the base name those of Marple who fell in the first world war.
Inscription
TO THE GLORY OF GOD AND SACRED TO THE MEMORY OF THOSE MARPLE MEN
WHO MADE THE SUPREME SACRIFICE IN THE GREAT WAR 1914 - 1918 A.D.
THEIR NAME LIVETH FOR EVERMORE
Herbert ADSHEAD
John ARCHER
Joseph ARDERN
Robert ASHTON
Fred ATKINSON
Leonard AUSTIN
William AUSTIN
Harold C BARLOW
William BARNES
Colin BARTON
Carlos B BATES
Joseph BELL
Joseph BENNETT
Thomas BENNETT
John T BOOTH


Joseph BOOTH
Joe BRADDOCK
Frank BRADWELL
G Bowden BROCKLEHURST
Sidney J BROCKLEHURST
John BROWN
Donald H BUDENBERG
Joseph BURRELL
Harold M BURTON
Oswald A CARVER
Basil A CARVER
W Herbert CHANEY
Harold COOK
Frank T DAWSON
Robert G DAWSON


William DEAN
Robert C DIXON
Joseph DUDDY
James DUXBURY
William DUXBURY
John EUSTACE
James FERNLEY
John FIELDING
George FIELDING
Walter FLETCHER
Walter FLINT
Charles FORTH
Edward W FOWLER
Harry FROST
Norman GREAVES

WHO STANDS IF FREEDOM FALL
Ernest GREENHALGH
Joseph HAGUE
Dennis HALL
Bernard H HARTLEY
Frank HARGRAVES
Arthur HAYES
Arthur HOOLE
Fred HOPWOOD
Walter HOPWOOD
J Leslie HOWARD
F E bradshaw ISHERWOOD
Cyril B JOHNSON
James KERSHAW
William LEIGH
Fred LLOYD
Roland MATHER
Joseph McDERMOTT


Donald McLAINE
Benjamin MILLER
Alec MORGAN
Burt MORRIS
Edward MYCOCK
Oswald NEAL
George PHILLIPS
Benjamin PHILLIPS
Fred PICKFORD
Raymond PICKFORD, MM
Horace PLATT
Samuel PLATT
Thomas PLATT
Stanley PROCTOR
Arthur RHODES
Fred RILEY
Leonard ROBINSON



WHO DIES IF ENGLAND LIVES



J Everett SHARPLES
Norman SHARPLES
Kenneth SINCLAIR
Charles E SLATER
Bertram SMITH
Richard SPEAKMAN
Robert E SPEAKMAN
W Arthur STOTT
Alfred SUTTON
Harry SYLVESTER
William K TAYLOR
Granville TAYLOR
G Frederick TAYLOR
John TEFFT
Frederick THELWALL


Samuel THELWALL
Arthur M TOMLINSON
David TOTTERDELL
Ernest H TRUST
Raymond WALTER
William E WARD
John S Collings WELLS, VC DSO
Henry WOODHOUSE
Walter G WOODCOCK
Thomas WRAY
Edward YARWOOD
Richard YARWOOD
Edmund Turner YOUNG
Malcolm H YOUNG
A Gordon CRESSWELL

This monument is erected by a grateful Township and many sorrowing relatives and friends 1919
They loved not their lives unto the death, Rev 12.11.