War Memorial, Knutsford Conservative Club.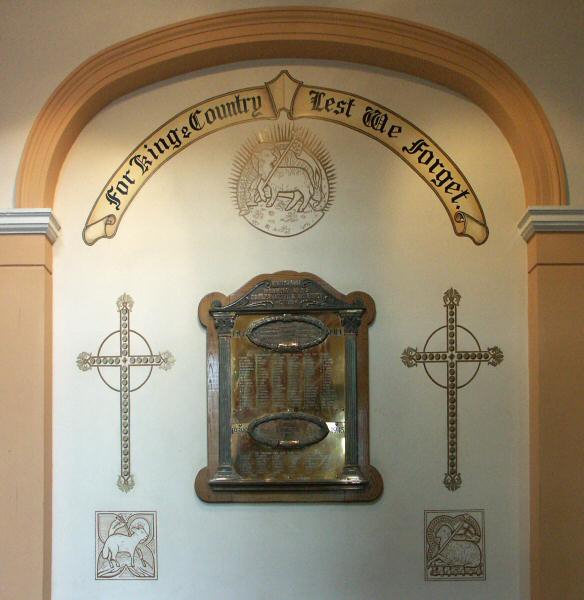 Location
In the Conservative Club, Northwich Road, Knutsford, Cheshire.
Description
A niche in the entrance hall houses a well polished Memorial and Roll of Honour. It names those of the club who served in the two world wars, and those who fell.
Inscription
For King & Country Lest We Forget.
KNUTSFORD
WORKING MEN'S
CONSERVATIVE & UNIONIST
CLUB


1914

W E BAINBRIGGE
T BRITCLIFFE
John HAMMOND

S S HOWARTH
A HULSTON
H ILLIDGE
T LEA

J H NORBURY
C RICHARDSON
H ROYLE Junr


1919
THEIR NAME
LIVETH
FOR EVERMORE

THE &nbsp FOLLOWING &nbsp MEN &nbsp ALSO &nbsp SERVED &nbsp WITH &nbsp THE &nbsp COLOURS &nbsp

H ASPIN
T CASH
Hon M EGERTON
E A HAYMAN
R MOSS
J T SALUS
J W BARON
F CHORLTON
Dr Ll FENNELL
B HEWITT
A MURPHY
G SALISBURY
H BASKERVILLE
A COOPER
H P P FENNELL
J HURDSFIELD
G S MURRAY
F S SIMPSON
W BASKERVILLE
H COX
P L FENTON
J H ILLIDGE
J J MUTER
P SLEIGH
J A BEBBINGTON &nbsp &nbsp
H CUMMINS
W H FISHER
H IRELAND
F A NEWALL
J A SMITH
F BESWICK
J CURBISHLEY
J F FLETCHER
S JENNINGS Junr
F NORBURY
W A SMITH
H BESWICK
H DARLINGTON
C FOSTER
W JOHNSON
T NORBURY
J J SPRUCE
G M BLES
J DARLINGTON
H FOSTER
E A JONES
F NOTT
W A STAPLETON
F J BOWEN
W B DAVIES
H FOSTER
H Turner JONES
W OGDEN
J STELFOX
Dr H BOWRING
A E DEAN
J GATLEY
R W JONES
E OWEN
J STRAITON
E BRACEGIRDLE
A DEWHURST
C E GODDARD
H KYNSEY
H PEARSON
H STUBBS
J T BRETT
C DEMPSTER
S G GOLDSCHMIDT &nbsp
E W LARGE
G H PEMBERTON
F TAYLOR
W F BRETT
J L DEUCHAR
H GOOSTREY
H Cornwall LEIGH
O PEMBERTON
S A TUNSTALL
Ferd BUCKLEY
A DITCHFIELD
A GRIMSDITCH
H LOMAS
H H PIERPOINT
P VERNON
F BUCKLEY Junr
W V DODGSON
W PERRGROVES
J MACKAREL
R RAWLINSON
C Leicester WARREN
B G BURGESS
F DRINKWATER
C G C HAMILTON
Sir H S MAINWARING Bt
H REDFERN
F WARBURTON
H CALDECUTT
J DRINKWATER
J W HAMPSON
F Boyd MERRIMAN
E RICHARDS
P WILLIAMSON
T W CASH
A D EDNEY
W HARRISON
J P MIDDLETON
Sir A J SYKES Bt
J WILLIAMS

A WINSTANLEY &nbsp &nbsp &nbsp &nbsp &nbsp J C WOOD &nbsp &nbsp &nbsp &nbsp &nbsp W H WRAGG &nbsp &nbsp &nbsp &nbsp &nbsp A WYCH &nbsp &nbsp &nbsp &nbsp &nbsp W A WYCH &nbsp &nbsp &nbsp &nbsp






1939

S BROOKES
G WARBURTON
C WHITE


1945

THEIR NAME
LIVETH
FOR EVERMORE


THE &nbsp FOLLOWING &nbsp MEN &nbsp ALSO &nbsp SERVED &nbsp WITH &nbsp THE &nbsp COLOURS &nbsp

G H ASHTON
G S BOWEN
J E DAVIES
F HALL
T JOHNSON
M PEMBERTON
E ATKINSON
D BRITCLIFFE Junr
C DEAN
P HAMMOND
R P LANGFORD-BROOK
W A PETTITT
F BAILEY
H BRITCLIFFE
W T DEAN
D HILLKIRK
H LUCAS
C B PLATT
D BASKERVILLE
A BROOKES
G EDWARDS
E C HOPE
H J MIDDLETON
D REID
R BATTERSBY
G BUCKLEY
S EDWARDS
N HOUGH
G MIMMACK
W SHAW
C BESWICK
J CAULFIELD
F FITZGERALD
E C HURST
G NULTY
J S TEECE
H BESWICK Junr
G DARLINGTON
H GROOM
J IKIN
J OLLIER
L VEDMORE

E WALKER &nbsp &nbsp &nbsp &nbsp &nbsp T W WALKER &nbsp &nbsp &nbsp &nbsp &nbsp T H WARBURTON &nbsp &nbsp &nbsp &nbsp &nbsp F WEBB &nbsp &nbsp &nbsp &nbsp &nbsp J W WEBSTER &nbsp &nbsp &nbsp &nbsp &nbsp

G WILLIAMS &nbsp &nbsp &nbsp &nbsp &nbsp M WILLIAMSON &nbsp &nbsp &nbsp &nbsp &nbsp